Neath RFC head coach Simon King and backroom staff quit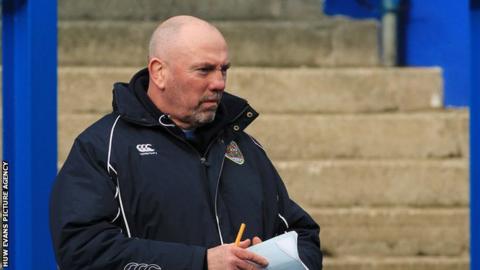 The head coach and backroom staff of Neath RFC have quit their roles amid mounting problems for one of Wales' oldest rugby clubs.
Simon King announced his decision on Saturday and was followed by his assistants Paul Williams and Paul James.
Team manager Neil White and kit man Tom Ward have also stood down to show their "support and solidarity" for King.
The Welsh Premiership side survived a winding up petition last week.
During a hearing at Cardiff Civil Justice Centre, a judge found Neath RFC was insolvent but could not wind it up because paperwork relating to a £31,000 debt was "unclear".
King announced on the club's website that he was leaving as it would be "negligent" to carry on without medical staff.
However, the club later issued a correction, carrying a tweet from physio Brian Downey saying the medical team had not left the club.
King was appointed in the summer, but during the financial turmoil his side have lost all but one of their league games.
The latest defeat came in Friday's 69-12 thrashing by Llanelli.
In his statement, which was later retracted, King said he had a "duty of care" to the players and could not continue without the appropriate support staff.
Former Ospreys physio Downey described it as "misleading", adding that the medical team would be present at meetings to "discuss the future of the club".
In their joint statement, the backroom staff said their decision was not only to show support for King, but to indicate "our heartfelt frustration with the current off field situation at the club.
"Our departure will hopefully bring about circumstance where the remaining players receive what they are owed," they said.
The seven-times champions are bottom of the Welsh top division and had to postpone a recent fixture at Bedwas having been unable to raise a side.
King said: "The supporters have been outstanding throughout and their enthusiastic loyalty is a true indication of what the club means to so many people.
"You all deserve better and I'm sure good times will return."
Neath secretary Mike Price thanked King for his dedication, saying "a lesser man would have crumpled before now".
Club captain Aaron Bramwell added: "These guys have had an uphill battle on their hands since the issues started with the club and have displayed great leadership within the club in these very difficult circumstances.
"I'm speaking on behalf of all the players when I say that these are great men and coaches and that they will be a huge loss to us as a club."