WRU must 'protect' clubs from the financial plight faced by Neath, says Paul Thorburn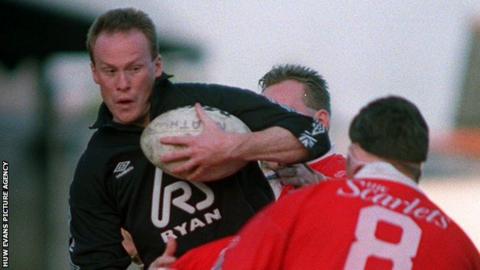 Paul Thorburn wants the Welsh Rugby Union to do more to safeguard clubs to prevent any repeat of the crisis facing Neath RFC.
The Welsh club survived a winding up petition on Thursday, as a judge could not proceed because paperwork relating to a £31,000 debt was "unclear".
Ex-Wales full-back Thorburn, 56, fears Neath's plight could be repeated.
"It's a stay of execution I guess, so we're a bit unsure of exactly what this means moving forward," Thorburn said.
"The Welsh Rugby Union needs to protect the game and we shouldn't have situations where benefactors and individuals are in sole control of these clubs.
"At the end of the day these are member clubs and they make up a significant part of our game.
"We have to protect against any individuals going bust and we have to protect against individual relationships breaking down, or individuals within organisations.
"I would like to see the Welsh Rugby Union in some way step in, because ultimately Neath - along with the other Welsh Premiership clubs - are really the foundation of our game.
"You have to ask some serious questions about the regions and the relationship that they have with those clubs.
"This is about the future and survival of Welsh rugby."
Financial problems at Neath started in July when the construction firm of club owner Mike Cuddy went into administration.
Supporters wanted the team, which trades as Neath Rugby Limited, to be wound up so they could take it over and have called for Cuddy to step aside,
At a hearing at Cardiff Civil Justice Centre, it emerged the "insolvent" club owes Her Majesty's Revenue and Customs just over £10,000, and Neath Port Talbot council may also be owed money.
'Laughing stock'
Thorburn, who played for Wales in the inaugural 1987 Rugby World Cup and won 37 caps, believes the clubs remain an important part of the development of Welsh talent, feeding into the four fully professional Welsh regions - Cardiff Blues, Dragons, Ospreys and Scarlets - and the national team.
The former Ebbw Vale and Neath player was also critical of the calibre of some of the head coaches who have been recruited in the past at regional level.
"I've seen in the news today that Welsh rugby is keen to make sure they have, in years moving forward, Welsh home-grown coaches," Thorburn told BBC Sport Wales.
"Well where are they going to cut their teeth if clubs like Neath are failing?
"Our regions have appointed some disgraceful coaches from overseas who quite frankly have blagged their way into positions. They've been a laughing stock in many instances.
"That doesn't apply across the board obviously, we've had some very good overseas coaches.
"The Welsh Rugby Union, who are the guardians of our game, need to get the regions round the table and say 'guys, this is how it will work and if you're not part of this vision then get out'."
The Welsh Rugby Union has been approached for comment.