Jersey Reds: Championship club secures 21 players until summer of 2020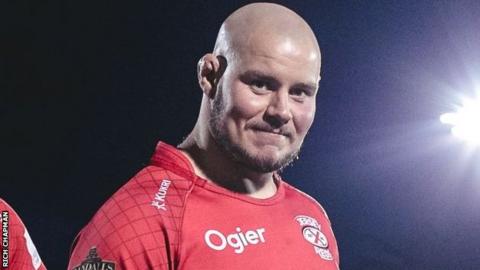 Jersey Reds have confirmed that 21 of their current squad will stay with the club until the summer of 2020.
Hooker Nick Selway is the longest-serving player Jersey have tied down until 2020 - next season will be his seventh campaign for the Reds.
Fiji prop Leeroy Atalifo, captain Roy Godfrey, and top league try-scorer Auguy Slowik are among others to sign.
Forwards coach Neil Tunnah is the only member of the club's coaching staff yet to agree to an extension.
The news comes a week after the Reds had to go to Jersey's government for £150,000 in order to help the club make ends meet until the end of the season.
"What it shows is players are happy, they're continuing to learn and develop and enjoy their rugby," head coach Harvey Biljon told BBC Radio Jersey.
"It gives us a bit of continuity that we haven't had in past seasons, but at the same time those players have got the opportunity that if a Premiership club comes along we're happy for them to go upwards and onwards."
He added: "We are talking to all players and coaches, and hope that we'll be able to confirm more additions for next season in the coming weeks."
Jersey Reds players contracted through to summer 2020: Nick Selway, Charlie Maddison, Leeroy Atalifo, Alec Clarey, Roy Godfrey, Harry Morley, Jerry Sexton, Charlie Beckett, Max Argyle, Rory Bartle, Conor Joyce, Kyle Hatherell, Janco Venter, Will Homer, Aaron Penberthy, Mark Best, Koch Marx, James Newey, Jack Stapley, Auguy Slowik, Leroy van Dam