Jersey Reds: Island government gives Championship side £150,000 to see out season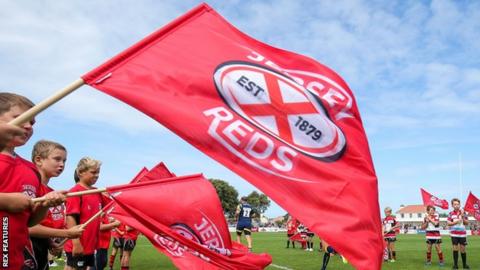 Championship rugby side Jersey Reds could have been forced to stop playing professionally had the island's government not given them a £150,000 grant, says chairman Mark Morgan.
The club are one of 13 projects to share £5.3m of States of Jersey contingency funding.
Other projects include drought relief for dairy farmers and support for the arts in the island.
Jersey almost went bust in 2016 and had to sell their ground to survive.
"There was a question mark about whether we'd be able to continue playing professional rugby," Morgan told BBC Radio Jersey.
The club are currently third in the Championship - a league which has seen a number of clubs have financial problems over recent seasons.
Jersey's government says the money will "support them through the remaining 2018-19 season".
Annual deficit of £300,000, but £2m contribution to the economy
Morgan joined the island side's board soon after their financial problems two years ago when the club sold their ground for £1.5m.
But they have been struggling to make ends meet since being promoted to the professional ranks in 2012.
"It's taken us a while just to steady the ship," said Morgan.
"We've brought in a whole new board and as we've worked to control the financial activities of the club we've realised that there's a financial deficit of around £300,000 per year in the running of the club.
"It costs more to run the club than the money we can make to run it at the moment."
The island side plays 11 league games and at least three cup matches at St Peter every season, while almost all of the playing and support staff have come to the island to work.
"It's a recognition from the States as to the contribution we make to the island," added Morgan.
"When we found that we had this issue, we didn't simply go and say 'please give us some money', we've been working with the States.
"We co-funded a consultant to come in and take a look at what the club gives to the island.
"The consultants have come back with a number of in excess of £2m each year directly going into the economy from Jersey Reds activity.
"You can see that for the money we've been granted, that's a nice return on any investment."