Naka Drotske: South Africa World Cup winner shot during robbery in Pretoria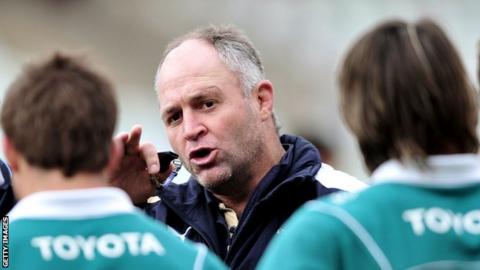 Former South Africa international Naka Drotske, a member of the 1995 World Cup winning squad, is in a critical condition in hospital after being shot during a robbery in Pretoria.
The 47-year-old was with another former Springbok, Os du Randt, but the latter was not injured.
Drotske played one game during South Africa's home World Cup victory.
It was the first major sporting event to take place in the country following the end of apartheid.
Local reports said Drotske was visiting family with business partner Du Randt when they were attacked by four men.
Drotske won 26 caps for South Africa between 1993 and 1999 and also played for London Irish from 2001-2003.
After retiring from playing he coached Super Rugby side the Cheetahs, before quitting rugby in 2015 to pursue business interests.
"Our thoughts are with former Springboks Naka Drotske and Os du Randt and their families, who were the victims of a robbery near Pretoria last night," South African Rugby said on social media.
"Naka was shot and is currently in critical condition in hospital. We wish him a speedy recovery."
A statement from the Cheetahs said the club were "very shocked by the news".
"Naka and Os are two of our legendary players, coaches and friends, and we keep them in our thoughts and prayers. We wish Naka a speedy recovery and wish the families involved all the best in this difficult time."
London Irish said their "thoughts were with" their former player.