RFU predicts 'challenging time' after £30.9m loss and making 54 staff redundant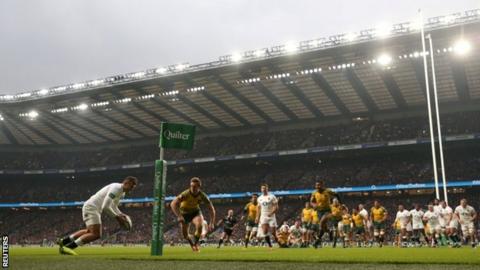 The Rugby Football Union has predicted a "challenging time" ahead after posting a yearly loss of £30.9m and making 54 staff redundant.
The RFU's financial statement for the year ending 30 June 2018, a period where England's form declined on the pitch and annual income fell by £12.5m.
The loss was offset by changes to the RFU's Twickenham hospitality business, which made a one-off profit of £31.6m.
That enabled the RFU to increase its investment in elite and grassroots.
The RFU, English rugby union's governing body, said that amounted to an 8% increase, leading to a record £107.7m in the English game in the last financial year, with reserves now at £25.1m.
Chief executive Steve Brown, who shocked the sport last month by deciding to quit at the end of the year, said he was leaving for his "own reasons" and not because the RFU was in poor financial shape.
"I think the RFU is in a superb place and is in great shape to adapt to whatever comes in the years ahead," he said, adding that 2017-18 was a "transition point" between a period of "high growth and investment in the game to a more challenging time".
He also said the RFU needed "to pull back a bit" in terms of future investment and make "adjustments".
The reason for this was spelled out by RFU chairman Andy Cosslett in his introduction to the 2017-18 financial statement.
After seven years of revenue growth in a "buoyant market", Cosslett explained, the "situation is changing and market conditions have been getting tougher".
Cosslett did not mention Brexit but he did say the overall financial outlook was uncertain and the sports rights market was tightening.
He also suggested the RFU had overpaid when it signed a £220m, eight-year agreement with the professional clubs to compensate them for international call-ups.
"We have to accept we signed some long-term commitments with the professional game which, while strategically important, now appear costly against updated revenue forecasts... they will reduce our discretionary investment going forward," Cosslett wrote.
Brown, however, said the RFU was "more efficient" now because it had reduced its costs for the third year in a row and the Twickenham East Stand redevelopment was completed on time and will pay for itself within seven years, despite costing "around £80m", up from an original estimate of £53.5m.
Brown put the annual loss down to the simple fact that England only had two home games in the Six Nations and the costs associated with the redundancy programme.