Gareth Thomas: Wales to wear rainbow laces to support ex-skipper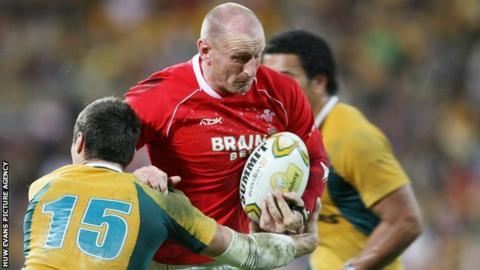 Wales will wear rainbow laces this weekend to "show support to former captain Gareth Thomas."
Former Wales captain Thomas was the victim of a homophobic attack last weekend in Cardiff.
France's national rugby team will also wear rainbow laces this weekend in support of Thomas.
The Rainbow Laces campaign began in 2013, when gay rights group Stonewall invited footballers in England and Scotland to wear them.
The France, New Zealand and USA rugby teams have also said they will wear rainbow laces for their games this weekend to show their support to Thomas.
Thomas, 44, who came out as gay in 2009, appeared bruised in a Twitter video, saying he was targeted because of his sexuality in an attack at the weekend.
Officers dealt with a 16-year-old boy by way of restorative justice following a request by Thomas, who is from Bridgend, to "send a positive message".
"Wales & Wales Women will again support @StonewallCymru #RainbowLacesDay campaign & show their support to former captain @gareththomas14 by wearing #RainbowLaces in their fixtures this weekend," the Welsh Rugby Union wrote on Twitter.
Wales Women play Canada at the Arms Park on Saturday morning before Warren Gatland's side face South Africa at the Principality Stadium.
Kirsty Clarke, Stonewall's Director of Sport, said: "We are delighted to be working again with the Welsh Rugby Union this year and look forward to seeing both national and regional teams participating in this year's campaign.
"Our work won't be finished until every lesbian, gay, bi and trans person, from fans to players, are accepted without exception.'
"What happened to Gareth Thomas last weekend is a painful reminder of just how much work there is still to be done before LGBT people feel free to be themselves, wherever they are."