Scotland journey to centre of unknown with Finn Russell and Adam Hastings

By Tom English
BBC Scotland
Last updated on .From the section Scottish Rugby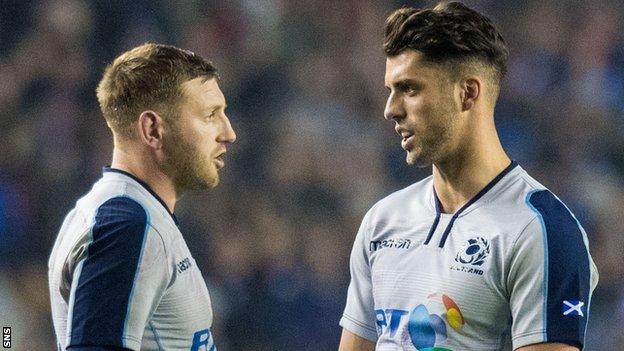 In taking his totem at 10, Finn Russell, and picking him at 12, Gregor Townsend has now come up with seven different midfield partnerships in 11 Tests in 2018.
One thing is for certain in this unpredictable world of elite rugby - the Scotland coach will never be accused of an unwillingness to explore his options.
In a sense, this is history repeating. In his prime, Townsend played 10, but he also played in the midfield, albeit mostly at 13 as opposed to 12, where Russell is going to operate.
He belonged to a different era, of course. Rugby has changed profoundly since his time. What's never going to change, though, is Townsend's desire to try new things in the search for a better formula.
His changes in the centre positions have gone from Chris Harris and Huw Jones in the first game of the year against Wales in the Principality Stadium, to Jones and Pete Horne for the three Tests that followed, to Jones and Nick Grigg in Italy.
Townsend has tinkered in part through form, injury and a desire to rest over-worked players and have a look at new combinations. Harris and James Lang started against Canada in Edmonton, Grigg and Horne began against United States in Houston and against Argentina in Resistencia.
Onwards into this autumn, when Alex Dunbar and Jones started against Wales before making way for Jones and Horne against South Africa and now Jones and Russell against the Pumas on Saturday.
With Adam Hastings playing fly-half, Russell becomes the eighth centre that Townsend has selected in those run of games - and that's not counting the injured group of Matt Scott, Mark Bennett, Sam Johnson and Duncan Taylor.
You sense that his first-choice pairing would be Jones and Horne, but others have a chance of changing that. If Taylor can overcome any injury curse, he'll come rocketing back into the equation.
If the axis of Hastings and Russell - twin playmakers and all the attacking options they might bring - happens to work on Saturday then Townsend will have further thinking to do as he heads into the Six Nations.
"The selection has evolved more because of circumstances with other players," Townsend said of Russell's switch, something which happened in the latter stages of the win over Fiji and defeat by South Africa.
"Given that we have had injuries and that Finn and Adam have combined well in the games that they've played, we believe it's a good time to see how they go against Argentina.
"It will be an exciting prospect for Adam. He'll have two strong communicators either side of him, someone who plays regularly at 10 on his shoulder and someone who has played a lot of matches for Scotland and captained Scotland on a number of occasions inside him."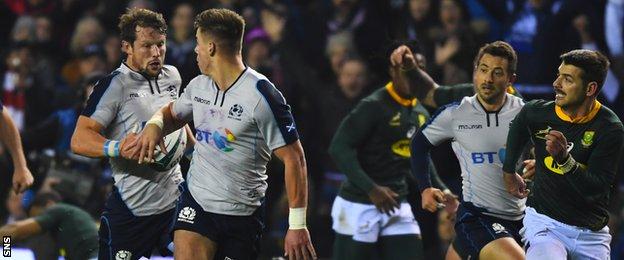 Townsend was referring to scrum-half Greig Laidlaw and Russell, two men with vast experience and who could be cast in the role of Hastings' mentors on the day. Although the coach is experimenting a little with his line-up, there's no escaping the importance of this game in momentum terms.
Scotland have lost two Tests this autumn that they should really have won - away to Wales and at home to South Africa on Saturday. A win against the Pumas would make it two wins from four. A loss would make it one from four - a worrying return heading into the Six Nations and a World Cup year.
"There are things we learned down in Cardiff and again last week, so we'd like to believe we're a better team going into this weekend's game," Townsend said.
"What really excited us about Adam going into the Wales game was the work-rate he has shown for Glasgow and his games for Scotland in the summer.
"We're looking for the same from Finn in a different role this week, so he's going to have to work really hard in defence as well as attack. We should see other aspects of his game. Finn is a strong ball-carrier, he's hard to put down, he's got a good offloading game, he's got a good awareness of defences to pick the right running lines."
Russell's reaction to being named at 12? "He seemed OK, yeah," Townsend added. "He's enjoyed the parts of the game where he and Adam have played together.
"Every selection has an unknown quality about it, but every selection is about putting a team out there that we believe gives us the best chance of winning.
"If this had been a Six Nations game, it might not have been the selection we put out there. But, if they go well, it could be the selection we put out there for a Six Nations game next year."