New faces as Scotland hope to recover for hefty defeat
Last updated on .From the section Scottish Rugby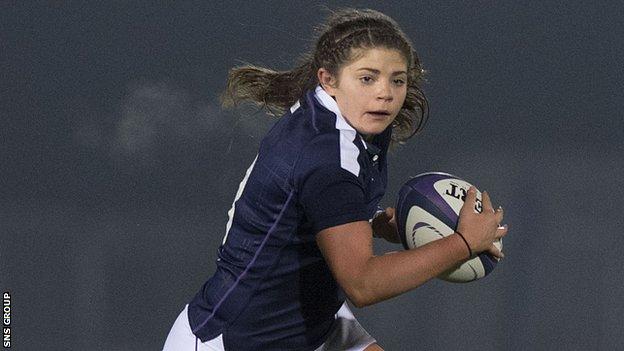 Scotland have named their squad to play Canada as they look to bounce back from their 38-0 Autumn Test defeat in Italy earlier this month.
Shade Munro's Scots will once again be captained again by Darlington Mowden Park's Lisa Thomson, with Jade Konkel - who plays for the Premier 15s side Harlequins - also returning.
Watsonians Charlotte Runcie will be vying for her first cap at Scotstoun.
"There are a host of new and experienced players," said Munro.
"The squad have worked really hard over the last few weeks and we hope that the crowd will back us on the pitch and bring the atmosphere that Scotstoun is famous for."
Scotland squad
Forwards - Lisa Cockburn (Darlington Mowden Park RFC); Siobhan Cattigan (Stirling County RFC); Katie Dougan (Gloucester-Hartpury); Mairi Forsyth (Stirling County RFC); Nicola Howat (Edinburgh University); Jade Konkel (Harlequins); Megan Kennedy (Stirling County); Rachel McLachlan (Stirling County); Louise McMillan (Hillhead/Jordanhill); Siobhan McMillan (Hillhead/Jordanhill); Jodie Rettie (Saracens); Lana Skeldon (Watsonians); Emma Wassell (Heriots RFC); Lucy Winter (Edinburgh University)
Backs - Abi Evans (Hillhead Jordanhill); Mhairi Grieve (Firwood Waterloo); Lauren Harris (Bristol Women); Lisa Martin (Lille Metropole Rugby Club Villeneuvios); Jenny Maxwell (Loughbourgh Lightning); Bry Nelson (Watsonians); Helen Nelson (Montpellier); Chloe Rollie (Lille Metropole Rugby Club Villeneuvios); Charlotte Runcie (Watsonians); Annabel Sergeant (Heriots RFC); Lisa Thomson (Darlington Mowden Park RFC)