Ireland 16-9 New Zealand: Lego lover Jacob Stockdale building imposing reputation
By Cian Murtagh
BBC Sport NI
Last updated on .From the section Rugby Union42
During his downtime in the Ireland camp Jacob Stockdale has developed a taste for building Lego sets but on the field he is forging a formidable reputation as a lethal try scorer.
Seven tries earned him the Six Nations Player of the Championship and the respect of opposition defenders but his score to beat New Zealand will go right to the top of his list of accolades.
The 22-year-old was still in the Ulster academy when Ireland won in Chicago in 2016 but he has fast become an indispensible part of Joe Schmidt's backline.
Schmidt masterminds Stockdale's match-winning try
The Ireland coach can take most of the plaudits for masterminding the pre-planned move that led to the only try of an absorbing Test match at the Aviva Stadium.
In the 49th minute, Ireland won a line-out on the New Zealand 10-metre line and worked the ball right towards Johnny Sexton before Bundee Aki dramatically switched back against the grain with a long pass to the waiting Stockdale.
The Ulster wing was left facing three All Blacks forwards but the rest of their team-mates had drifted in field, leaving Stockdale with acres of space to collect his own chip and finish off a brilliantly executed move.
"Jacob Stockdale, what do you say?" said Schmidt.
"He got some good space down that short side but once he controlled that chip ahead and it was reminiscent of the Twickenham one where he went down the short side with Conor Murray and got that chip over the top to get that try, which was crucial in giving us a bit of scoreboard separation against England."
New Zealand's Ben Smith, who had come off his wing to defend in midfield, said: "They manipulated us a wee bit with bringing me up and then kicking behind where there was space.
"I think they worked that pretty well in the way they got into that part of the field and they all played their part to execute that try.
"It was well done and when they score a try like that you've just got to acknowledge that it was well played.
"As a team they have got a lot of tricks up their sleeve but we've probably got to be a bit more into it with how we defend those tricks and that was an example."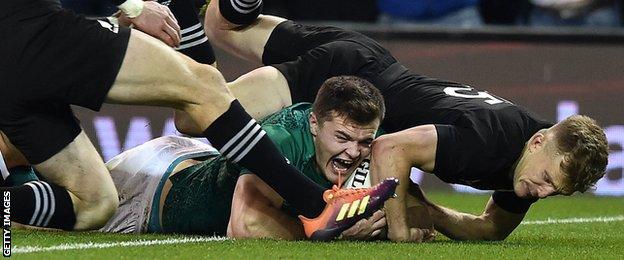 Stockdale's 12th try in 14 Tests
The move may have come from the Schmidt playbook - although the Irish coach claims he steals most of his moves - but in Stockdale it had the perfect executor.
The Lisburn man had a similar kick blocked down by Kieran Read just minutes earlier but he showed no hesitation in chipping 6ft 7in Brodie Retallick before using his speed and power to beat Aaron Smith to the bouncing ball and stretch to score his 12th try in 14 Test appearances.
"There's no doubt that we have a lot of quality players right across the board," said Ireland captain Rory Best, who was on Stockdale's shoulder when he attacked.
"We prepare really well to make sure that we can execute things and when they don't necessarily come off first time it does take a little bit of, how do you say it, confidence to chip that over again.
"Jacob's a fantastic player, like a lot of players are in this squad, and he got his opportunity.
"I think it shows that he doesn't necessarily look the fastest until you go to keep up with him: that big long stride on him, and, as has happened to him over the last 12 to 18 months, the ball bounced his way - but I do think you make your own luck with those bounces and he is at the right place at the right time."
Schmidt 'always on the lookout' for moves
Stockdale says he is 'obsessed' with building Lego models to stave off boredom between training sessions with the Ireland team - he's made a couple of Star Wars spaceships and a replica of the Manhattan skyline recently - but Schmidt seems to find other ways to fill his time off.
"I'm always on the lookout, I'm always keeping my eye out," said the Ireland coach when asked how he develops his 'strike plays'.
"I watch Mitre 10 Cup, they've always got a couple of good ones. There was a really good one it looked like the Highlanders played recently and I showed that to the coaches and said 'we could maybe do this' because it's hard to get patents on moves!
"One of the things with the All Blacks, they work so hard, they work in to get into that chip line, they work across so they can get the far side of the defence up, so we felt we could go back down that short side.
"Now, sometimes they work and sometimes they don't but it's always nice when you do put them together and it's nice when everyone knows their role and they come off.
"The other coaching staff, they come up with some as well. But I've come up with some incredibly poor moves in my time - Besty will probably testify to that - they looked really good on paper though!"