Scotland lament 'what might-have-beens' after South Africa loss

By Tom English
BBC Scotland
Last updated on .From the section Scottish Rugby
Every team that ever amounted to anything in rugby went through a 'shoulda won phase', a stretch of time when they came away from big games lamenting narrow defeats that could have been seismic victories.
As they strive to become true contenders, Scotland are in that place right now. They know how to win and have done so with aplomb against stellar countries, but however many major days Gregor Townsend has had as a coach, he'll know that the total could have been a whole lot more.
South Africa on Saturday was one of those. Wales earlier in the month was another. Ireland in the Six Nations, though eventually a 20-point loss, might have been an altogether different story had Scotland not butchered so many chances and given up some soft points. Even New Zealand this time last year can fall into the category. Scotland had 60% possession and 65% territory that day.
It was, to borrow a phrase from Stuart McInally in the wake of the loss to the Springboks, "one that got away".
Is it harsh to criticise Scotland for not beating South Africa? Old school thinking would say yes, but that's the thought process of Scotland knowing its place and taking great pride in moral victories, the thought process of failure. If we criticise, we do it from a point of believing that they're capable of better.
Under Vern Cotter, Scotland moved on. Under Townsend, they have kept on moving. Now, you turn up to Murrayfield with a level of expectation, no matter who they're up against. They've worked hard to get to this stage. This is a dangerous rugby team we're taking about, albeit one that still has a lot of growing up to do.
Pete Horne's try against the Springboks was another classic in a growing list of classics. The speed of thought, the sleight of hand, the accuracy, the support lines - majestic.
Huw Jones was quite brilliant in that moment. Sean Maitland was exceptional also. Scotland can do that to any team on the planet and it's an utter joy to watch. Their journey these past few years has taken them from soft touches to live threats. The next part of the journey into the land of serial winners was always going to be the toughest, however.
Did South Africa win this Test or did Scotland lose it? A bit of both, but possibly more of the latter than the former. They had chances. Oh, how they had chances.
Early in the second half they were gifted 10 minutes with a one-man advantage after Willie le Roux was harshly binned. Greig Laidlaw banged over the ensuing penalty to make it 20-20 but then Scotland failed to deal with the restart and coughed up a penalty of their own which Handre Pollard put over to restore the lead.
A fumbled restart, impetus for the Springboks, three points and a psychological boost for the visitors. These are little things, but add them all together and they're very big things.
That spell with Le Roux in the bin ended 3-3 and it would have been 6-3 to the Boks had Pollard not hit a post with a second penalty. An opportunity wasted for Scotland. Others followed. Jones made a terrific break out of defence in the 55th minute, but in the aftermath the ball was kicked away instead of being kept alive.
In the 59th minute, and trailing by three points, Scotland had a kickable penalty but they kicked for touch. It wasn't a bad decision as long as something came of it, but they lost the ball and the spirit of the Boks soared again.
South Africa were brutish, as we knew they would be. They battled ferociously, defended brilliantly, and won a resounding victory in the breakdown battle. They didn't play much, if any, rugby in that second half. They made the game an ugly arm wrestle.
Even then, Scotland had opportunities. Two minutes from time they had an attacking lineout in the Springbok 22 but it went wrong, They won a penalty directly after and went back to touch to launch another maul. That was their moment to pull off the victory but the maul went south, the Boks survived, and here we are again talking about what-might-have-beens.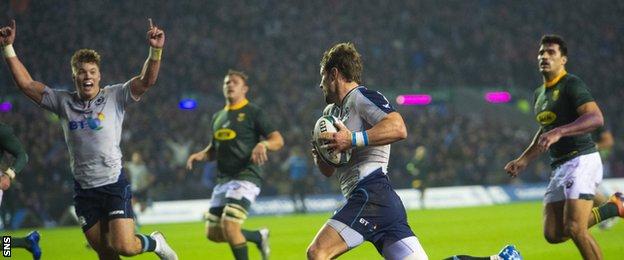 Later in the evening, Ireland beat the All Blacks for the second time in two years. Even in the white heat of a top-of-the-world war of attrition, Ireland's error count was tiny. They played with a controlled fury for 80 minutes. This is not how Scotland play the game and trying to ape it would be doomed to failure. There is a message, though.
Scotland have won a lot of games with their brilliance. They've also won big games by digging deep and defending magnificently. To get the consistency to launch a championship-winning bid, however, they need more.
There is a requisite amount of power you need up front and though Scotland have many fine things in their armoury, they need extra badness in their pack to take the next step, the kind of qualities that Ireland had in Cian Healy, Tadhg Furlong, Peter O'Mahony and CJ Stander on Saturday night, the 'run-through-your-granny' belligerence that all winners have.
Five years ago the Irish team was in crisis having won just a single game in the Six Nations. The coach departed and Joe Schmidt arrived and in his first autumn he suffered the heartbreak of a late, late loss to the All Blacks in Dublin, a searing disappointment that haunted them. They grew up, found some new players and now look at them.
Scotland are on the right road, but it's a brutally tough trip to the top and the closer you get the harder it becomes. If the lessons are learned and then applied in the Six Nations and the World Cup, then defeat to South Africa might have been worth it.