Ireland 16-9 New Zealand: 'A brutal clash with beauty laced through it'

By Tom Fordyce
Chief sports writer
Last updated on .From the section Rugby Union185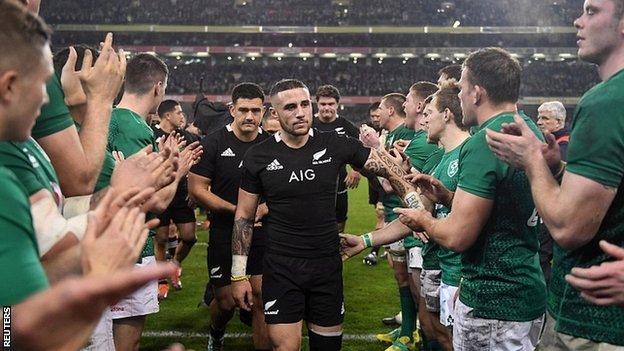 You'd describe it as a world heavyweight title fight, except by the end there were 30 of them in the ring, all glassy-eyed and sagging on the ropes and sucking in air like men with the lungs punched out of them.
Modern rugby is a flawed game. Too much collision, not enough evasion. A season that stretches out and careers too often cut short. Money going where money already is and the hard-up left with even less.
And yet sometimes it produces contests like this, where it drags you in at the start and holds you spellbound for the next 80 minutes, where the brutality has a beauty laced through it, where two sets of players empty themselves of everything they have and even in the last throes no-one is quite sure who will come out on top.
Everyone was broken at the end - the starting XVs, the replacements, the coaches, the 51,000 in the Aviva Stadium, the thousands hanging in the bars and pubs of Dublin, those watching in rugby clubs or at home hiding behind the cushions on the sofa.
When you started trying to reassemble the pieces it felt like some things had changed for good.
The All Blacks are a relentless self-regenerating beast that seems to absorb its rare losses and emerge even more ruthless. They are still favourites to win their third World Cup on the spin in Japan in 11 months' time.
They will also begin that quest with some of their aura chipped away, a collection of brilliantly talented players who have weaknesses and flaws just like the others who so often pay reluctant homage.
Ireland did that to them. Penalties conceded in the rush and panic, mistakes with ball in hand, an approach in the last 10 minutes as they chased a converted try to salvage a draw that was almost one-dimensional at times.
We can't get through this green wall. Let's run at it again. We can't get through. Let's keep running at it.
Ireland have been the pre-eminent team in one part of the world for the past two years now. What this 16-9 win produced was irreducible proof, in the fiercest crucible imaginable, that they are no longer chasing to catch up, no longer nearly there.
Ireland waited 111 years for a first win over the All Blacks and now two have come in two years - following on from a sensational 40-29 victory in Chicago on 5 November, 2016.
In a run of just one draw - in 1973 - and 15 defeats in 16 home Tests against the All Blacks before Saturday, Ireland had been left with a series of 'if onlys' and 'what could have beens' to ponder.
But this feels much more than just a rare victory. This is a team that maximises all the individual talents within it yet harnesses a wider national rugby culture too.
It is a side where all the cogs mesh. The players know exactly what the coaches want from them, and what the coaches want is tailored to the players' explicit abilities.
Coach Joe Schmidt is not chasing another nation's dream. He is not trying to make them play like the All Blacks. He is taking a style that defines Irish rugby and finessing and distilling it to its rich essence.
Wins like this open up their own challenges. Ireland are not accustomed to being talked about as favourites rather than brave mavericks, and All Blacks coach Steve Hansen began that process within minutes of the final whistle on Saturday night.
The latent fear about what might happen should Johnny Sexton succumb to injury or misfortune isn't going to go away any time soon. Equally, this was an epic pulled off without four of his key lieutenants: Conor Murray, Dan Leavy, Sean O'Brien and Robbie Henshaw. The replacements came on and no-one saw the gaps.
The abiding belief has been that to beat New Zealand you need to cut loose. They are a side that until arriving in Europe this month had scored at least four tries in each of their previous 12 games.
Ireland, like the Lions, have shown there is another way, that you can stop them in their tracks rather than trying to race them to the line.
Not since the second Test against the Lions 17 months ago have the All Blacks been kept try-less. Not since the 2011 World Cup final in Auckland, 96 matches ago, have they scored so few points in a Test.
Ireland, like the Lions, have Andy Farrell as their defence coach. Farrell might be the new bogey-man to scare Kiwi children to bed. He has shown that stopping others scoring can be as beautiful to behold as scoring yourself.
It began in the first minute, when the All Blacks drove repeatedly deep into the Ireland 22.
It ended the same way, as they hammered impotently against the same thick green line as the clock turned red, and it involved every man standing: 14 tackles from centre Garry Ringrose, 16 from back-row forward Josh van der Flier, an extraordinary 20 from the remarkable second row James Ryan. Everywhere Peter O'Mahony, a Munster machine that chews up everything in its path.
Brodie Retallick is a handsome player even if he looks like he was assembled by a drunkard. To see him visibly in pain, as he was after being battered backwards by Ireland captain Rory Best, was both shocking and strangely liberating. They are human. They feel human things.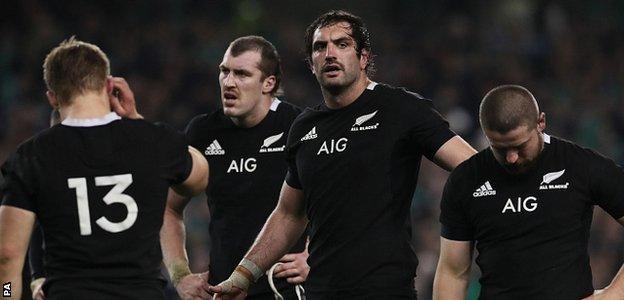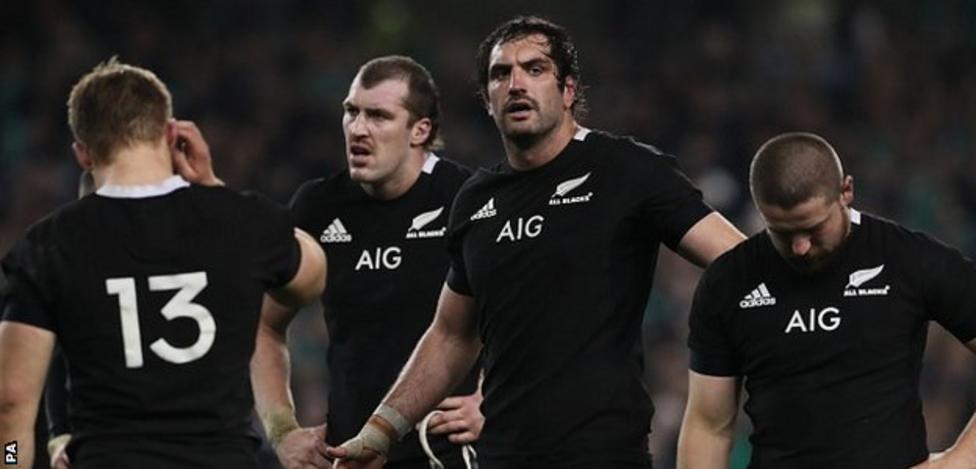 Still the margins were ludicrously fine. In the visitors' ranks Ryan Crotty made 20 tackles, Owen Franks and Kieran Read 17, Jack Goodhue and Sam Whitelock 16.
The other stats you could barely squeeze a playing card between: possession 52% to 48% in Ireland's favour, territory 53-47. Ireland made 198 passes, New Zealand 196. Both sides beat 20 defenders.
Jacob Stockdale's winning try came from a chip to nothing and a ball that bounced up perfectly into his onrushing path. Read was clear with support outside him after a charge-down but found the ball around his ankles and could not gather.
That's the way it should be between the best two sides in the world.
Maybe, too, Rob Kearney's try might have been given in the first half rather than ruled out for losing control of the ball with his fingertips on the line.
Maybe referee Wayne Barnes, in an otherwise outstanding display, might have shown a yellow card at the end of that first half rather than admonishing Read as the penalties piled up.
Tight but revealing. Nervous yet exultant. A sport that is struggling lit up by an occasion few other sports could match.