Ian Robertson: Wilkinson, Campese & Edwards pay tribute before correspondent retires
Last updated on .From the section Rugby Union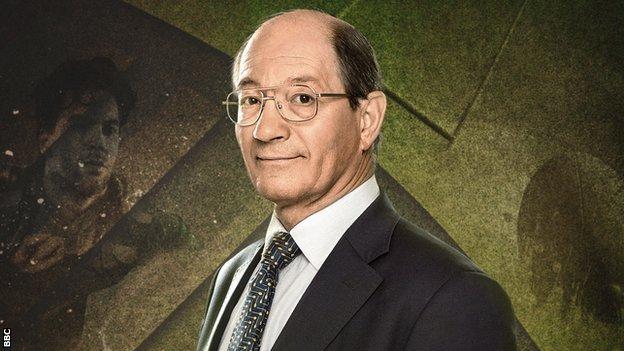 Ian Robertson: A Celebration
Date:
Wednesday, 21 November
Time:
20:00-21:30 GMT
Coverage:
Matt Dawson hosts a special programme marking the retirement of the BBC's rugby union correspondent.
When the final whistle blows at Twickenham on Saturday it will mark the end of not just England's autumn campaign, but Ian Robertson's 47-year career at the BBC.
The former Scotland fly-half, whose playing career was cut short by injury, has called many of the sport's most memorable moments, including famously describing Jonny Wilkinson "dropping for World Cup glory" as England clinched the crown in 2003.
He was also the man providing the soundtrack as Scotland clinched famous Grand Slam victories over the Auld Enemy in 1984 and 1990.
Matt Dawson has hosted a BBC Radio 5 live programme celebrating 73-year-old Robertson's career and featuring interviews with rugby greats Jonny Wilkinson, Francois Pienaar, David Campese and Gareth Edwards, plus former British Prime Minister Tony Blair.
Here are a selection of their tributes while you can listen to the full programme here.
England's World Cup-winning fly-half Jonny Wilkinson had not heard Robertson's commentary before being played it during his interview:
"The way he described the drop-goal against Australia in that World Cup final shows the power of commentary.
"The ability of someone to translate the immensity of an event to people who are not at the event.
"I was there, and I am more nervous listening to that than I was kicking the ball over the posts.
"We had a relationship that evolved and developed, in a way relaxed, throughout my career.
"At the beginning there's a lot of people talking about media training, how to hold yourself and what to say.
"Much later on it became a pleasure to just sit down and chat, because you can hear in his voice when he's commentating just a genuine love for the game.
"As I got older he was more open to poking me with a bit of fun. When you walked into a media room, you could hear Robbo immediately. His voice would rise above everyone else's, you knew where he was and what he was up to and who he was speaking to.
"He owned the room."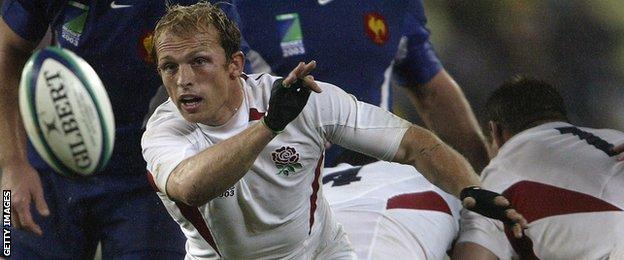 England's World Cup-winning scrum-half Matt Dawson, whose first commentary alongside Robertson was England's 76-0 defeat by Australia in 1998: "That was the first time I met you as a commentator and you bet me £50 that England would lose by more than 40 points.
"That's the first thing you said to me when I sat down and put my headphones on, and I gave you this look of total disgust and shook your hand in some kind of deluded annoyance.
"We lost 76-0 and I just remember as I was getting up thinking 'how on earth do I go downstairs and talk to the players?' you shook my hand and said 'good luck in the next two weeks against New Zealand'.
"There was that twinkle in your eye of 'you're going to get battered again, my friend' and I just knew there was something very special.
"I am incredibly lucky to have worked with you, so much has been said of your generosity, your spirit is absolutely incredible. How you get on with all people is amazing.
"I am going to miss all those lovely descriptive words that millions of us have enjoyed over the years, brightening up lounges, cars, gardens. It's just been incredible."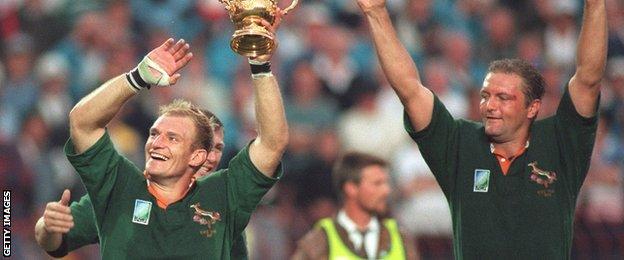 South Africa's 1995 World Cup-winning captain Francois Pienaar: "I hope you still remember me because it's just over 23 years now that I had the privilege to meet you when the Rugby World Cup came to South Africa.
"I just wanted to say thank you for everything you have done to make the game of rugby better, your passion, your insights, your love for the game, was profound.
"But even better than that was your giving back. I don't know if a lot of people know how much you have given back to communities, societies, and to charities through the course of your career.
"When you have that cathartic moment and think back on your life, it was a job very well done.
"Make sure when you're in Cape Town, we have a glass of wine."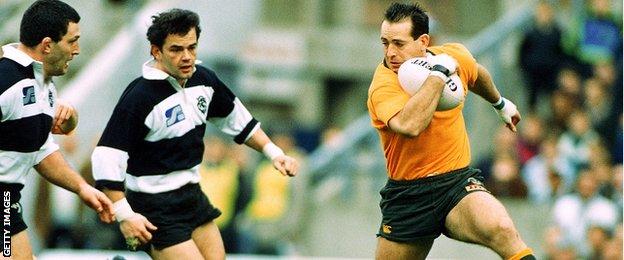 Australia's 1991 World Cup-winning wing David Campese: "Robbo must be the only Scotsman who gets up there and takes the mick out of the Poms and gets away with it, because everyone loves him. If I say something everybody would rip into me.
"At the World Cup in 2003 I had my birthday on the Sunday and Robbo turned up in the middle of a park to join in the celebrations. People like that you always keep in contact with. That's why rugby is such a unique sport."
Former British Prime Minister Tony Blair, who was taught by Robertson at school: "You really are one of the greats. After over 40 years your tone and your take is going to be sorely missed and I am sure that iconic voice, that I remember so well, will be remembered by many more for years to come as the voice of rugby.
"It was a privilege to be taught by you and joy to listen to you in later life. I remember our time at school together, you were running the first XV so I was way down the pecking order, but I was a fly-half and you were the person who taught me how to kick properly and to sell a dummy - and in politics, that's been pretty useful!"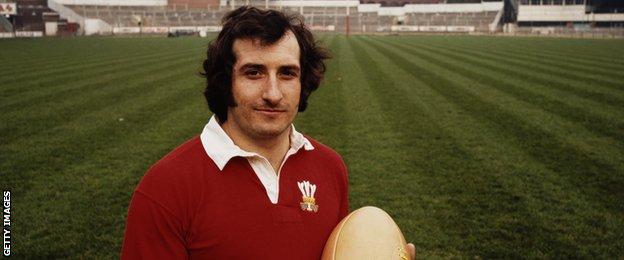 Wales and British Lions legend Gareth Edwards: "I have spent so many wonderful hours late into the night after matches and at charity matches swapping tales with Robbo.
"One of the things I have never forgiven him for was coming back from the 1971 tour to New Zealand with the Lions, and Robbo knew everybody in the racing fraternity including Ian Balding.
"I remember Ian approaching us and saying 'boys, we have got to buy a leg in this horse'.
"We called it British Lion but he ended up coming nowhere.
"I told everyone 'don't put any money on him whatsoever!' But when Robbo speaks you listen."