England v Japan: Mark Wilson of Newcastle on his route to Test success
Last updated on .From the section Rugby Union95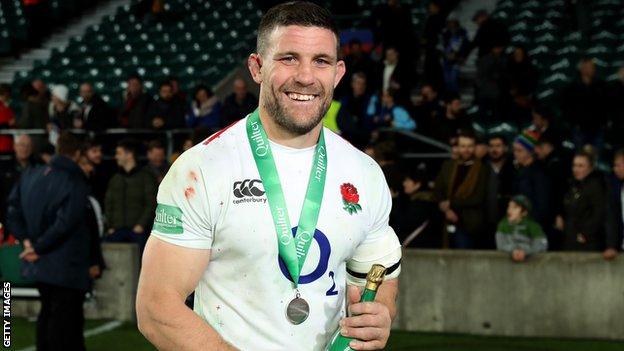 England v Japan
Venue:
Twickenham
Date:
Saturday 17 November
Kick-off:
15:00 GMT
Coverage:
Live on BBC Radio 5 live with BBC Two highlights at 19:30 GMT
'Every lesson shapes a life'. That is the promise of a recent teacher recruitment drive.
The story of Dean Barker and Mark Wilson, the quiet success of England's autumn, is demonstrating that the promise has substance.
Wilson was rumbling around the football pitch as a burly 12-year-old when Barker, the head of PE at Kirkbie Kendal School in Cumbria, first suggested he may be more suited to the oval ball.
"The school was football dominated, all my mates had clubs around the area so there was a big emphasis on that," remembers Wilson.
"Mr Barker was mad into rugby though. I was quite a big lad in year seven, he put me down that route and invested his time in me."
Wilson had never picked up a rugby ball before. A late starter to the sport then, he has also been a late starter to the Test game.
He made his international debut at 27, getting a shot when England, depleted by the demands of the British and Irish Lions tour, toured Argentina in summer 2017.
This autumn, with coach Eddie Jones' options at number eight decimated, Wilson has made his second and third Test starts against South Africa and New Zealand respectively.
Few had him picked as a possibility to step in. A pre-autumn BBC Sport vote named nine candidates who could step in at eight as a result of the absences of Billy Vunipola, Nathan Hughes and Sam Simmonds. Wilson was not one of them.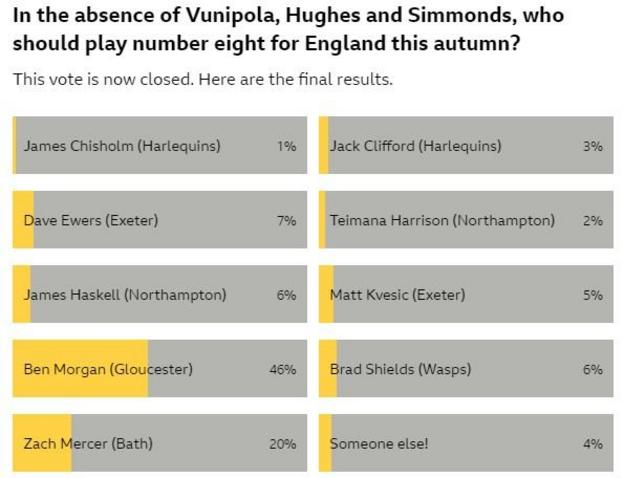 But his relentless industry and excellence has made him one of the strengths of England's autumn.
It has been what Wilson has been doing his entire career, living out Kirkbie Kendal's motto of 'care, courtesy, consideration' - as well as, crucially, hard work.
"I was never talented and Mr Barker would be the first one to say that. But he was always pushing me and never let me get into my comfort zone," Wilson added.
"I was playing football on a Sunday and going to play rugby after and I was burning myself out, which meant I was no good at anything.
"He said 'you've got to put all your eggs in one basket or you'll get nothing'. It was quite hard - all my mates were footballers - but I'm glad he told me to.
"I've always wanted to please him. I'm very grateful for what he's done for me."
Wilson's route into the England team has been very different to that of Vunipola, whose series of injuries has helped open the door for him.
After Vunipola's rugby ability earned him a scholarship into a world of boaters and public school traditions at Harrow as a teenager, he made his Premiership debut while still in the sixth form.
He represented England at various age-grades and, when his contract expired at Wasps at the age of 20, he was the subject of an intense bidding war that involved most of England's top clubs and was eventually won by Saracens.
In contrast, with few of his state school class-mates sharing his enthusiasm for rugby, Wilson relied on Newcastle's academy programme and Cumbria county rugby to develop his game.
When he left school, it was without a contract. He started a university course, but during his second year was invited to first-team training with the Falcons. He has never left.
Dean Richards has been his coach there since 2012 and earlier this week Wilson - in his more accustomed role of flanker against Japan on Saturday - picked the brains of one of England's great back rowers over coffee.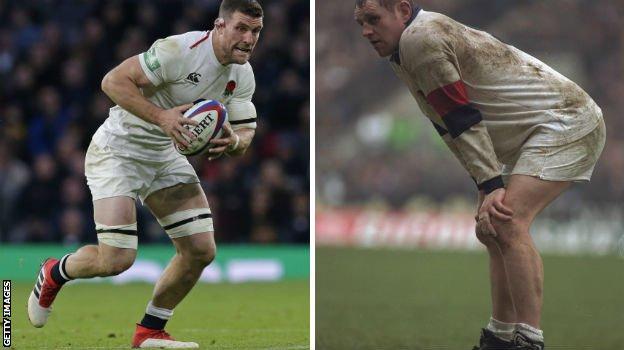 "All through my career he has been making sure I brush up my skills as an eight so he's kept me on the straight and narrow with that," Wilson added.
"Dean Richards and forwards coach John Wells changed the whole culture of the place when they came in. They are winners at the end of the day. Dean hates losing.
"When I first started out Newcastle were guilty of being at the bottom and being happy with a win here or there. We celebrated massively when we got a victory.
"When he came in we had this whole culture change of when we won, we wanted to kick on again the following week. It's taken a few more years than he expected but his influence has been fantastic.
"It's why I wear my socks down, a homage to him."
That mentality was evident when Newcastle launched a relentless 39-phase injury-time attack to upset French big-spenders Montpellier in the Champions Cup in October.
Jones was at Kingston Park to watch the Falcons' key forward that day and, just as when Baxter spotted a pre-teen Wilson bustling around a football pitch, clearly saw something he liked.
"I've always liked the physical challenge in rugby," says Wilson. "The feeling of being uncomfortable and backs-against-the-wall defending for your mates is the part I love the most."