Scotland v South Africa: WP Nel on farming, facing his native country & how he was 'close to stopping'

By Tom English
BBC Scotland
Last updated on .From the section Scottish Rugby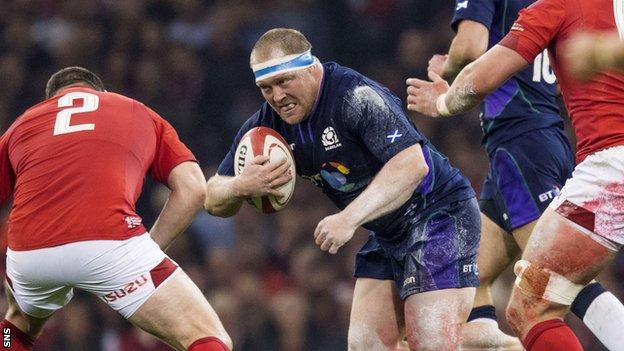 Autumn Test: Scotland v South Africa
Venue:
Murrayfield Stadium, Edinburgh
Date:
Saturday, 17 November
Kick-off:
17:20 BST
Coverage:
Watch live on BBC Television, listen live on Radio Scotland & online; text commentary on BBC Sport website & app
When talking about how improbable his rugby journey has been, WP Nel goes way back to a time before his birth, to a hunting trip involving his father, who was then just 13 or 14 years old.
Erik Nel was gallivanting around the fields of Loeriesfontein in South Africa's Northern Cape, a .22 caliber rifle in his hand as he went. He jumped a burn and the gun went off, the bullet entering his nose on an angle and entering his head, where it remains to this day. Young Erik had to learn how to walk and talk again after that incident, but the miracle was that he survived.
The near-death of the boy who would grow up to be his dad. That was the first major episode on Willem Petrus Nel's eventful path to professional rugby, a path that has led him to his 25th cap for Scotland on Saturday against the county of his birth.
It'll be the second time he'll have played a Test match against South Africa and, if there were no split loyalties back in 2015 when he faced them first, there's certainly not going to be any when he faces them again.
"My life is here," the 32-year-old says. "The year I moved to Scotland [2012], I lost my mum and so, apart from my dad, there's not really a huge amount connecting me to South Africa any more.
"I have two kids and they were both born here. I have another on the way. My daughter would definitely consider herself Scottish.
"My son really loves his grandpa, so he'd probably think of himself as South African. He's more into music than rugby and won't be all that fussed about who wins on Saturday. I just hope he remembers to cheer for his daddy."
Erik won't be at Murrayfield, but his son talks about him a lot. Even despite his accident at such a young age, Erik Nel grew up to become an athlete and had his heart set on running the Comrades, the storied 89km ultra-marathon on the roads and hills between Durban and Pietermaritzburg.
It never quite happened for him. He was required on the farm and that was that. Working the land was what he did until he retired, even though the effects of that hunting accident stayed with him. Nine years ago, he lost the use of an eye because of the damage done that day as a kid.
"Loeriesfontein is a very small town, about 300 people," Nel says. "If you drove through it, you'd think it was almost like a ghost town.
"It's just farming country and that's where my dad is. We go back to see him whenever we can.
"He came over for the World Cup and it was his first time on a plane. He didn't like being up in the sky for so long with all that water under him. I'd love to get him over again, but he's happy where he is."
'Tug-of-war was my first love'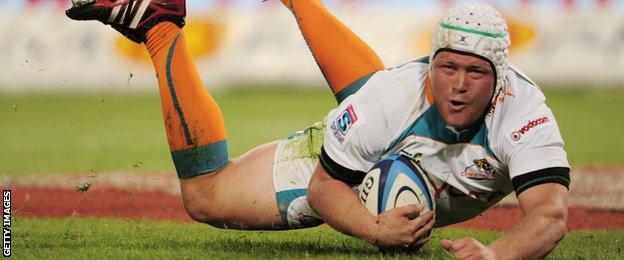 Nel's career in rugby wasn't really supposed to happen this way. There are kids who grow up in South Africa and all they want from life is to get the ball in their hands and play. He wasn't one of those. At his high school, there were eight rugby teams and he started off as hooker in the bottom rung.
He was 17 and the sport that obsessed him wasn't rugby, it was tug-of-war. He was hell-bent on making the South African schools championships that season. Even when a supportive teacher spotted his talent with the oval ball and promised him a spot in the firsts, Nel told him that tug-of-war was his priority and there was no changing his mind on that.
"Oppies Opperman was the name of the man who first told me I had potential in rugby," he recalls. "He turned me into a tight-head. To be honest, I wasn't that bothered, but he believed in me.
"I went away to university to study agriculture and played some club rugby, but there was no doubt in my mind from the age of 19 and 20 that I was going to back to the farm. And I was happy to go there."
After university, he was persuaded to delay his return home and joined Western Province in Cape Town. After two years, he lost the contract that the current Springbok coach, Rassie Erasmus, helped him get.
"Western Province didn't want me at the end of that particular season and I thought: 'Oh well, I had a good run for somebody who wasn't even supposed to play rugby, I've had fun'.
"I phoned some rugby friends who'd really helped me along the way and said: 'Thanks for everything you've done for me, but I'm done and I'm off to the farm now'. And one of them said: 'Hang on, gimme two weeks, something might come up'."
And something did come up - the Cheetahs, where he stayed for four years, and then Scotland, where he's been for the last six.
'I was close to stopping after neck injury'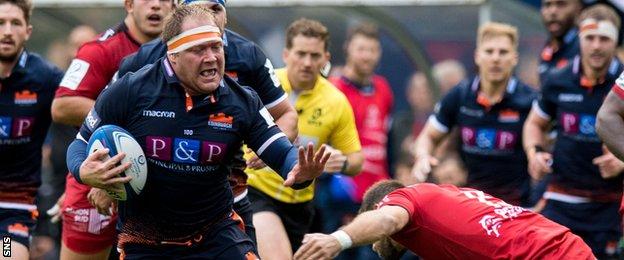 His early months in Edinburgh weren't easy. A new country, a new team and then the bombshell from home that his mother had died just as she was planning a trip to see him. "It's life, isn't it?" he says. "You just have to stand up."
Nel's reputation slowly grew. Here was a strong man with all the mobility you could want from a modern prop. He became an international player on the residency rule, starred in the World Cup in 2015 and, suddenly, everybody was talking about him.
From relative obscurity to being picked in prospective Lions squads. Everything had opened up for him.
Then, another crossroads. A bad neck injury took him out of the game for a year. He missed the Six Nations of 2017 and missed the Lions tour that followed it.
"I was close to stopping," Nel admits. "If it wasn't for the surgeon who was so positive, I'd have been done.
"I was thinking 'this is the end', definitely. My contract was up soon. 'What am I going to do?' There was a lot going on in my head."
Nel made it back for Scotland's 2017 summer tour, played in all three Tests against Italy, Australia and Fiji and it's easy to recall his smile on that trip. It hardly ever left his face.
He found it hard to explain how good it all felt, but then, he didn't need to. His demeanour said everything.
A few months later and another kick. In the autumn, he broke his arm and that cost him more time. "The injuries, especially the neck injury, are a reality check," he says.
"You're not invincible, you're just human and you need to get out of his hole. My wife and kids were very good to me - it was so great to have them around.
"I'm in the church and have good connections and I got lots of positivity there as well. It's a Christian church. Faith is a big thing for me and it helped me a lot. It gave my family what we needed."
'You need to have a couple of tricks'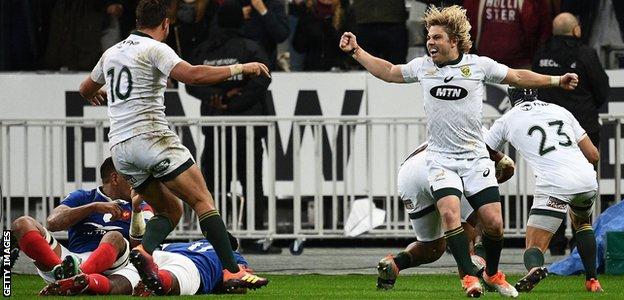 And now he's facing South Africa again. "It's almost like a second chance after the injuries," he says. "It gets harder.
"My breakthrough year would have been 2015-16 and opponents didn't know me so well in the international game then. Your years after that become harder because people are spending times studying your weaknesses and they're coming looking to exploit those weaknesses and you must be ready for when they come.
"That's a new challenge and it's what rugby is all about. We know what South Africa are going to be like - big and powerful and dangerous. The scrums will be interesting.
"Does anybody know what happens in there? Referees don't know, definitely not. If you can paint them a good picture, they will give you the benefit of the doubt, but after that, it's just a guessing game.
"To be fair, if I was a referee, I'd just be guessing too. Both packs want to dominate and if it's just power against power then you go nowhere, You need to do something - you need to have a couple of tricks and hope that your tricks are better than their tricks."
It's to Scotland's advantage that whatever tricks Nel comes up with, he'll be conjuring in a blue jersey rather than the green and gold.