Geoff Parling: Ex-England lock takes coaching role at Super Rugby side Melbourne Rebels
By Brent Pilnick
BBC Sport
Last updated on .From the section Rugby Union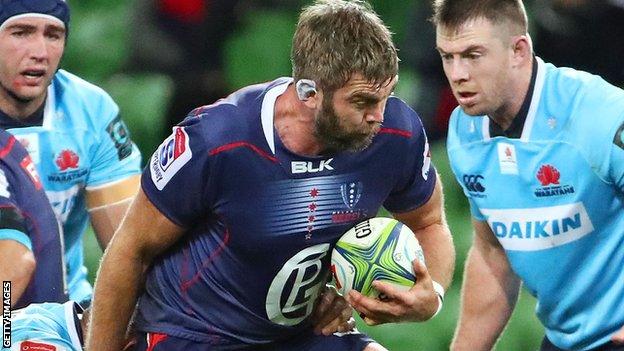 In an era when southern hemisphere coaches are sprinkled all around the game in Europe, Geoff Parling has become something of a rarity - an English coach down under.
The former England and British and Irish Lions lock has just agreed to take up a role with Melbourne Rebels when he hangs up his boots with Japanese side Munakata Sanix Blues in January.
It is 18 months since Parling helped Exeter Chiefs win their first Premiership title and last played on home soil, moving first to Sanix in Japan for the remainder of last year before spending much of this year with the Rebels as part of their playing squad.
He has been back mixing coaching and playing in Japan for the past few months, but from next year he will be responsible for coaching the Rebels' line-out and help prepare their forwards.
"When we left England I thought 'let's go on a family adventure'," Parling told BBC Sport from Japan.
"I've always been the sort of player that does a lot more analysis, the side of the game that some coaches would do anyway.
"So coaching's always something I've been interested in. When I was down at Chiefs I was helping to coach Taunton and I've been player-coach here at Sanix this season.
"It was one of the reasons I wanted to try to experience Super Rugby, because I knew I wanted to coach afterwards and it would be good for me to experience different competitions and just to see how things are done differently for myself further down the line."
'He could be a fantastic acquisition'
One man who knows Parling better than most is his former boss, Exeter director of rugby Rob Baxter.
Parling was the first Lion ever to play for the Chiefs when he joined in 2015 and was integral as they made it to the Premiership final for the first time in their history.
"I think he'll be a good coach," Baxter told BBC Sport. "He's technically very, very aware and very proficient about a lot of the skills that are needed, particularly from a top-quality line-out forward.
"But his range is broader than that - he's got a very good knowledge of all aspects of rugby.
"He could be a fantastic acquisition, particularly in Australia. Talking to some Australian coaches, they feel they maybe lack a bit of detail sometimes in some of their application.
"That will be Geoff's bread and butter; some of the detail around how the forwards play, but also around the breakdown and attacking patterns and the reasons for doing things defensively.
"He'll be top quality at being able to get those ideas over and this could be the start of a very successful time for him."
Bringing rugby to Melbourne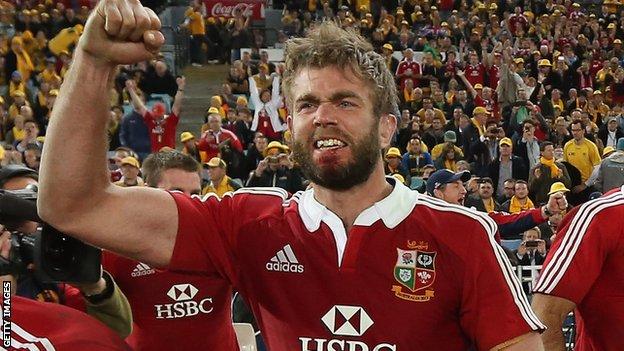 Melbourne is a sporting city - the Australian Open, Grand Prix, Melbourne Cup and Boxing Day Test are just some of the major events that the city hosts.
But the only oval ball most people in town care about is of the Australian rules variety.
The Rebels are a relatively new concept. Founded in 2010, they famously made a young Danny Cipriani their first signing.
It has been hard-going since then - the club almost got the axe when Super Rugby was reshuffled to bring in sides from Argentina and Japan, but survived at the expense of Perth-based Western Force.
Their ninth-placed finish last season was their best in the division and they missed out on a first play-off place only on score difference.
"Last year was a bit of an amalgamation of the Force and the Rebels when the Force got cut, so it's probably a club that's still finding its identity in a way," continued Parling.
"It's Aussie rules mad. If you go to a playground there'll be a granny there and she'll say 'who's your footy team?' She'll have an Aussie rules top on too.
"Last year it was something like the third local player to debut for the first team, so lads are slowly coming through.
"It's trying hard to get the support of the local community and build rugby in Victoria."
Experiencing Super Rugby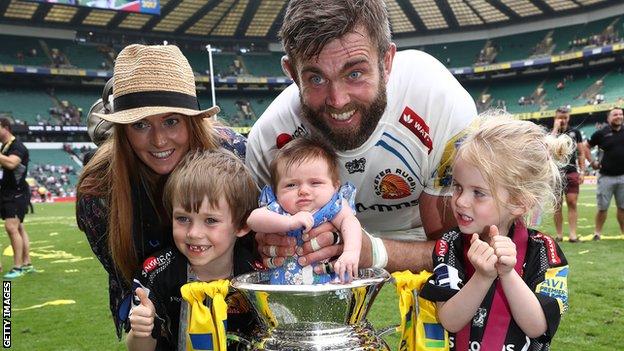 Two years ago, England boss Eddie Jones said the Rugby Football Union should pay to send coaches down under to experience Super Rugby.
But since then nobody from England has taken up a first-team role with a Super Rugby side.
Ex-England coach Stuart Lancaster was linked with the Queensland Reds after the 2015 World Cup, while former Ireland and Lions star Ronan O'Gara is the only high-profile British or Irish coach in the competition at the Crusaders in Christchurch.
So could having some experience of coaching down under help Parling land a top job in England one day?
"Not necessarily," said the man who won two titles with Leicester Tigers between 2009 and 2015 and played in five Premiership finals in his career.
"Look at Rob Baxter and the team he's got down at the Chiefs. They're a good example of going to a club and building it.
"Sam Vesty and Phil Dowson are working with Chris Boyd at Northampton, so there are some good young English coaches there.
"I just think you've got to get the right owners and the right club to realise that sometimes there's a guy already in front of them who can do a decent job and just make sure they get the opportunity."