Germany 'will die' to face All Blacks: Mike Ford on new challenges in World Cup repechage
Last updated on .From the section Rugby Union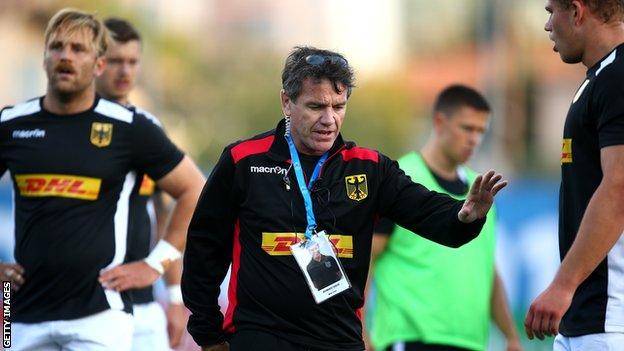 Mike Ford says his Germany side "will die for the opportunity" to face defending champions New Zealand in next year's Rugby World Cup.
The 52-year-old has gone from coaching some of the sport's biggest names at Leicester, Bath and Toulon to taking charge of cable-car drivers and bouncers as part-timers Germany aim for their first appearance at a World Cup.
Ford was announced as German national team head coach in September ahead of their repechage campaign to qualify for the 2019 showpiece.
If Germany win the group, the country "most people didn't know played rugby" will enter Pool B with the All Blacks.
And the former England defence coach knows his side's performance in the repechage could initiate a long-term plan to grow the sport in a country where football dominates.
"The statistics that were released after the 2016 Rio Olympics showed the biggest audience for the rugby sevens event came from Germany," added Ford.
"But football is huge here and schools will have three or four teams in each year group, whereas we are yet to break in.
"This World Cup has had a bit more publicity and after Sunday's win against Hong Kong, we are getting a bit more press.
"Should they qualify, it will be a good time for German rugby to go out and get some sponsors, and start a five-year plan to try and grow the sport."
Germany won their first game in the repechage 26-9 against Hong Kong, but they will also have to overcome Canada and Kenya to book their place alongside the world champions and South Africa at next year's tournament.
"I would love to coach a team at the World Cup," Ford told BBC Radio 5 live.
"All four countries play each other once over a three-week period in the repechage, and the winner gets the final spot at the tournament next year.
"I had been in the job for 10 weeks, and we didn't have the finances to play any warm-up games or hold any camps, but we beat the so-called favourites Hong Kong in our first game.
"Ideally you want three or four warm-up games and camps where you have them 24/7, and training sessions with everyone there. We didn't have that but I'm not complaining because I knew the situation when I came in.
"I was coaching a team I didn't know. It was the first time ever where I wasn't sure what they were going to produce, coupled with the fact I didn't know what Hong Kong were like either."
Germany's route to the repechage was "through the back door" as other nations were disqualified from the Rugby Europe Championship, the continent's second tier beneath the Six Nations.
"The European Championship is like a second Six Nations' tournament and it includes the Georgias, the Spains and the Russias," said Ford.
"In the last competition there were a few teams who fielded ineligible players and they were disqualified, so Germany got through to a World Cup qualifier.
"They beat Portugal before playing Samoa in the final where there was a gulf in class between the two sides."
Samoa won both legs of their play-off to reach the 2019 World Cup, with Germany progressing to the repechage.
The game is still not professional in Germany and many of the national players have to fit training and matches around other jobs, and Ford is intent on rewarding his players' commitment with a place in Japan.
"It's an English-speaking changing room and there are quite a few South Africans on board, while all the German players speak English," added Ford.
"There is a guy who plays for us who is a cable-car driver during the day, and a bouncer who works from 21:00 to 03:00 in the night.
"It makes you as coach want to give them the best opportunity because the commitment they show is humbling and they will run through a brick wall for you."
Germany's next match in the repechage is against Canada on Saturday, 17 November in Marseille, before they face Kenya in their final match on Friday, 23 November at the same venue.