Welsh rugby players' body denies threat of strike action
Last updated on .From the section Welsh Rugby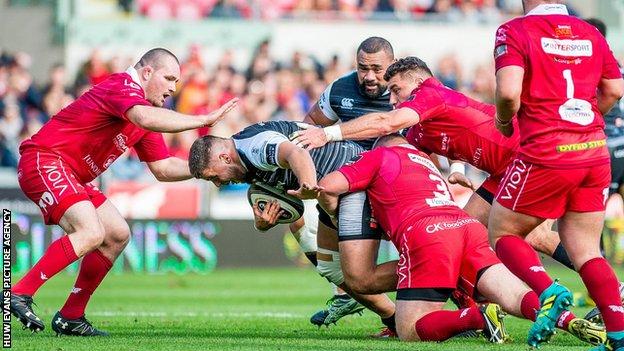 The body representing Welsh rugby players is in discussions with the Welsh Rugby Union about a new pay deal, but has denied reports of strike action.
Representatives of the Welsh Rugby Players Association (WRPA) met with the WRU after reports of new pay bands.
The proposal is part of the new agreement between regions and the union which has been dubbed "Project Reset".
Threats of industrial action have been dismissed by the WRPA.
The statement read: "The WRPA and it's executive board consisting of senior players have met with the WRU but have at no point discussed industrial action with its members.
"The WRPA is committed to engage with both the WRU and the regions in order to represent, develop, promote and protect the best interests of professional players in Wales.
"Further consultation meetings between the WRPA and the WRU having already been set."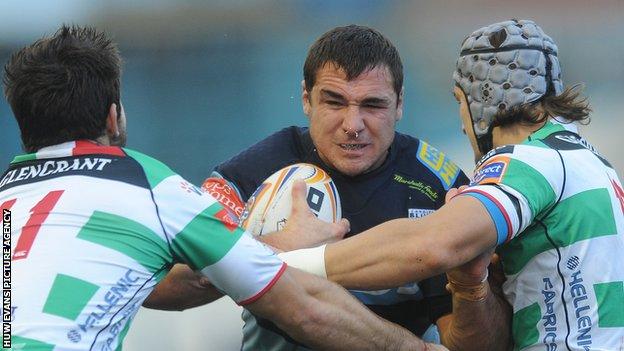 The proposed pay bands would cover regional players who have not played for Wales up to British and Irish Lions.
WRPA is led by former Cardiff Blues and Wales back-row forward Andries Pretorius.
The WRU confirmed the players' organisation is being consulted in the process of negotiations.
A WRU statement said: "Negotiations around Project Reset are ongoing.
"Negotiations will not be conducted in the public arena, but please rest assured all relevant parties are being fully consulted during the process.
"Once any conclusions are reached a full explanation of the project will be made directly available to all quarters of the rugby family."
WRU chief executive Martyn Phillips said in September the governing body is considering the future of national dual contracts.
Players on dual contracts have 60% of their salary paid by the union, with their region making up the rest.
The system also limits the total number of games - domestic and international - a player can take part in during a season.