Glasgow Warriors, Edinburgh & Scotland players sign up for new union
Last updated on .From the section Scottish Rugby11
Scotland's professional rugby players have signed up for a new union in response to disputes around bonus payments and disciplinary matters.
Plans for Rugby Players Scotland - set up by Scotland international Tim Swinson - are at an advanced stage.
The idea has a 100% uptake from professional players, including those from Glasgow Warriors, Edinburgh and the national sevens and women's squads.
"We are the last Tier One nation not to have an association," Swinson said.
"We feel the players have not had their views voiced as well as they could have been."
Speaking on the Rugby Sportsound Podcast, Swinson outlined incidents - such as a bonus row at Glasgow and the handling of Scotland international John Hardie's suspension amid allegations of cocaine use - that convinced him a players union in Scotland is a necessity.
'Glasgow bonus dispute lasted 10 months'
One of the catalysts for this project was a pay dispute at Glasgow Warriors during the 2016-17 season that went unreported.
Warriors players believed their employers moved the goalposts in relation to financial bonuses they were due if they secured European qualification.
Forward Swinson says there was "a bit of disquiet" and describes it as "a frustrating time" during which they had up to 10 meetings with Glasgow managing director Nathan Bombrys.
"We were promised a certain amount if we got into Europe," Swinson said. "We got into the [Champions Cup] quarter-finals for the first time and a week later we were told that amount would be reduced.
"It got to the point we had to hand in a letter to our line manager explaining we wanted to go to a tribunal. It never got to a tribunal and, to be fair, the SRU resolved it and there are no hard feelings.
"It's the only year in the last seven that Glasgow haven't made the [Pro12/Pro14] play-offs, which may just be coincidence, but the feeling within the squad was quite aggravated towards the SRU at times.
"I think they felt the SRU were trying to do one over us. We disagreed that they had done it in the right manner. We believed we were right and it turns out we were."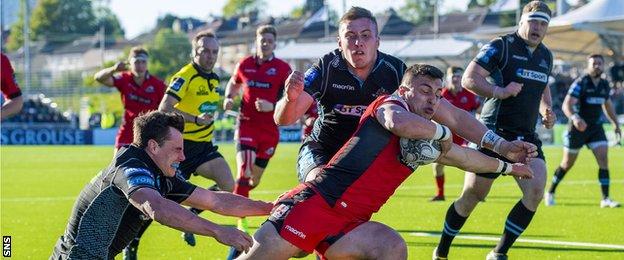 Swinson also cites the case of Scotland flanker Hardie as an example of where a players' association can be helpful.
Last season, when Hardie was playing for Edinburgh, he was suspended by Scottish Rugby amid allegations of cocaine use. The Scotland flanker would return to play for the club but did not have his contract renewed in the summer and has since joined Newcastle.
"An independent and impartial spokesperson for the players as a whole and in individual cases surrounding discipline would be important," Swinson said.
"Particularly John Hardie's case. The outcome may not have been any different, but it would have been seen to have been done appropriately and fairly."
'It would be useful to have an impartial service'
Attempts have been made to form a Scottish players' union before, but the project has never got off the ground.
Players' associations have long since been established in other leading rugby nations. England have had one since 1994 - the Rugby Players' Association - of which Swinson was a member during his time at Newcastle.
"If I ever needed help, I knew they had certain things in place and they were impartial," Swinson said.
"When I moved up to Scotland six years ago, I was told that really wasn't an issue and I really believed that for the first few years, that everything was going well.
"There have been a couple of incidents that have highlighted to the players that, although the SRU do generally care about us, it would be useful to have a service that we know is impartial and independent."

'This is not a confrontation'
Swinson says Rugby Players Scotland has received "great support" from players such as Greig Laidlaw and Finn Russell, who play outside Scotland, as well as those based at home.
Registration papers for the new organisation have been lodged with Companies House and the next step is to work out a way to work alongside the governing body.
Scottish Rugby are thought to have been resistant to the idea of a players union in the past.
"We want to be taken seriously by the SRU, by our players and by the international rugby community and to achieve that, we have to be professional right from the start," Swinson said.
"It's not a confrontational situation, I want to work with the SRU. I want to make rugby better for Scotland, for the players that play it, and that in turn will be better for the rugby community in Scotland.
"If the SRU don't take it the way that I do, then I'll have to deal with that.
"There are a lot of things in the SRU that are going very well. There has been a lot of help with mental health awareness. You really notice it as a player, how much extra it is trying to do."
A statement for Scottish Rugby said they "welcome" the plans and are "very happy" to meet with Rugby Players Scotland to learn how they can "work together going forward".
It added: "We have never resisted any attempt to form an association in Scotland and have had regular meetings with the International Rugby Players Association over the past 18 months as part of a continuing dialogue around player welfare."