Stuart Hogg: SRU 'needs to be bold' in replacing Scotland full-back at Glasgow

By Tom English
BBC Scotland chief sports writer
Last updated on .From the section Rugby Union48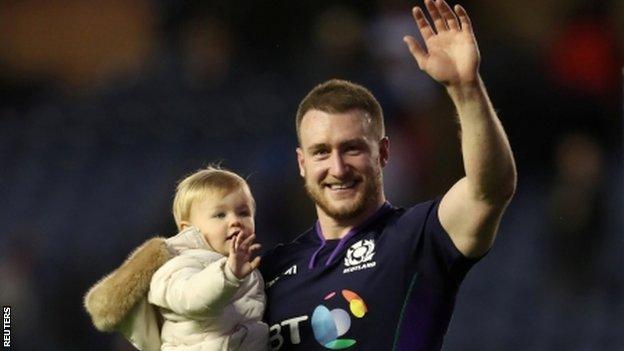 Glasgow Warriors supporters will bemoan rather than begrudge Stuart Hogg his move away from Scotstoun at the end of the season.
It was coming, everybody knew that. With the riches and the opportunities available elsewhere it was always a racing certainty that Hogg would move on when his current contract expired. At the age of 26, and having given every season of his professional life to Glasgow, it was time.
When he makes his move - Exeter Chiefs would appear to be the club that has got him - he'll be paid a salary more in tandem with a player of his class, a wedge that the Scottish Rugby Union (SRU) couldn't match no more than they could match the fortunes Racing threw at Finn Russell before him.
Some of this has to do with money, of course, but much of it has to do with ambition, too. In any reckoning of the world's great full-backs, Hogg at his best would be in the conversation.
His talent doesn't chime with his trophies, however. He has just one - a Pro12 from three years ago. That's a paltry return.
He has never played in a European final or a European semi-final. He has appeared in one Champions Cup quarter-final and that was a mismatch against Saracens in 2017. It's not enough - and Hogg can't have liked the chances of it improving in the future had he stayed at Glasgow.
Just like the last time his contract was up for renewal the SRU would have put its best offer on the table and if its renegotiations worked once they were never going to work twice. The landscape has changed and there's more money out there now for the Hoggs of this world.
He's departing to explore a terrain where, yes, the deal is better but also where, in the pursuit of winning big trophies, the odds are more in his favour.
He'll be sorely missed by Glasgow, but this is just another reminder of their place in the grand scheme of things. When the monied leagues, fuelled by benefactors and television dough, want your top boys, they have a fair old chance of getting them.
Hogg's exit should have a minimal impact on Gregor Townsend. There will be the inconvenience of not being able to play him and rest him as he sees fit but there's also the likely benefit of Hogg being galvanised anew by a fresh challenge as Russell has undoubtedly been in France.
Hogg and Russell 'ambassadors as much as players'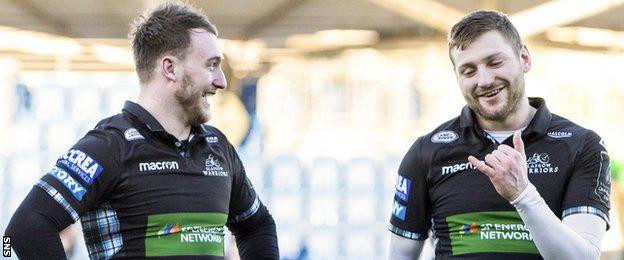 Townsend won't have many fears about Hogg going south, but plenty at Glasgow will be fretting, head coach Dave Rennie possibly chief among them. What we're seeing is the best parts of their machine falling off piece by piece: first Leone Nakarawa in 2016, then Russell this year and now Hogg next year.
Three men who quickened the pulse - gone and going. Glasgow have worked hard to establish a brand at Scotstoun. It's a fun place to go. A good day out. If the marquee names keep vanishing though, the fun stops and the results worsen and the whole thing runs the risk of collapsing into mediocrity.
Glasgow couldn't afford to keep Russell or Hogg. Everybody gets that. But these are not just rugby players they've lost and are about to lose. Russell and Hogg and Nakarawa before them were reasons for turning up at Scotstoun in the first place, reasons why kids turned up.
They were, and are, ambassadors as much as players. Their loss is not just felt on the field, it's felt off it as well. Losing your key assets doesn't only stifle growth, it sends it into reverse unless you can find new stars - and quickly.
Glasgow and Edinburgh want to kick-on as clubs, but the reality is that they exist in order to feed the cash cow that is the international game.
Nakarawa wasn't replaced by a big talent from abroad that illustrated ambition, but by Scott Cummings, a promising young player from home. Russell wasn't replaced by an Aaron Cruden or anybody else in Russell's classy ilk, but by Adam Hastings, a talented work-in-progress.
There's an obvious logic in that. Why would you want to put roadblocks in the way of your best young home-grown players? How is Hastings supposed to show his stuff if he's perpetually playing second fiddle?
That kind of thinking makes sense for the international team as they attempt to deepen the pool of players for the future, but it compromises Glasgow, who want to achieve in the here and now.
And the business of replacing Hogg when the time comes? There's no obvious internal candidate, no tyro-in-waiting. If the SRU had in the region of £400,000 a year for the 'Keep Hoggy Campaign' then there are multiple reasons why they should lump the lot into a fund to land as heavy a hitter as they can from Rennie's book of contacts.
Elsewhere in the Pro14 the big clubs are moving forward. Leinster's academy mass-produces phenomenal rugby players but when they needed to go into the market, they got Scott Fardy and James Lowe, two hugely influential operators.
In the summer, Munster brought in Tadhg Beirne and Joey Carbery, two Irish internationals. In Wales, the Ospreys got George North and Scott Williams. Edinburgh landed John Barclay and others.
Glasgow have recruited, but not at that kind of level. In replacing Hogg, for the good of the team and the people who pay to watch them, the SRU needs to show a little aspiration now. The supporters need to be convinced that beyond this season there is still going to be a title-chase in Glasgow despite the wounding departure of another favourite son.
The SRU may have been powerless in trying to keep Hogg. In replacing him, it needs to be bold.