Katy Daley-McLean says 100th England cap 'perfect'
Last updated on .From the section Rugby Union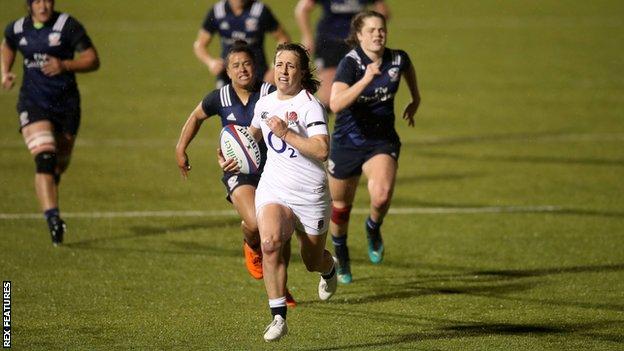 World Cup-winning former captain Katy Daley-McLean says winning her 100th England cap marked a "perfect evening".
Daley-McLean, 32, became the first fly-half to reach the milestone, scoring a long-range try during the Red Roses' 57-5 win over the United States.
Last week, coach Simon Middleton called her "one of the greatest women's players ever".
"It was a very, very special evening for me," Daley-McLean told BBC Radio 5 live.
"It was something you don't dream about when you start your international career - of getting anywhere close to that number. And then, as you slowly start to approach it, you start to think about it.
"I ended up on 99 [caps] from the end of March in the last Six Nations game thinking, 'The next game I play for England will be the big one'. So it was brilliant. It was a perfect evening," she said.
McLean says she is "totally itching" for the remaining autumn internationals, adding: "We had quite a decent club run going as well. Obviously the sport is quite contact-based and you just kind of want to get out there, get that done and get into international duty."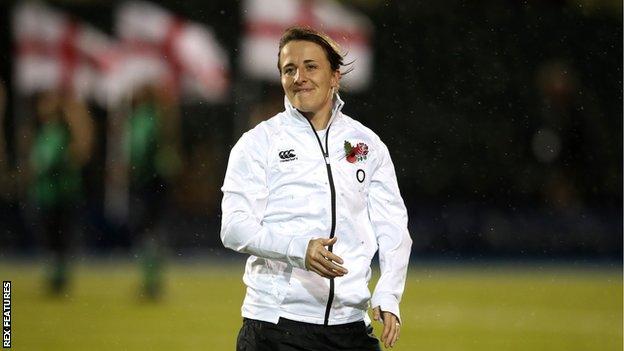 The achievement was also marked with an emphatic win for the Red Roses, which came after United States prop Megan Rom was shown a red card after 15 minutes for leading with her forearm in a tackle.
"We had a pretty new side out there; we had six new caps on Friday," Daley-McLean added.
"I think America have capped something like 21 in their touring squad. So you know at the beginning of a World Cup cycle, when our World Cup isn't until 2021, that teams are going to be doing that - because, ultimately, you need to build your strength and depth for the World Cup.
"I think, for us, it was about getting those new girls out as well and about giving them experience of international rugby. America come hard, they come straight, they want to play a direct kind of game - so it was good for everybody to get an opportunity to even play."
In September, the Rugby Football Union announced contracts will be reintroduced for their England women's 15-a-side players to make them fully professional, with 28 full-time deals available from 1 January, along with seven elite player squad agreements.
"The contract is absolutely huge. It's fantastic for our sport - it's fantastic for female sport," Daley-McLean said.
"I think for me, as much as I would have wanted them sooner, the fact that they're here and they've got long-term stature is brilliant and it's where we want to go."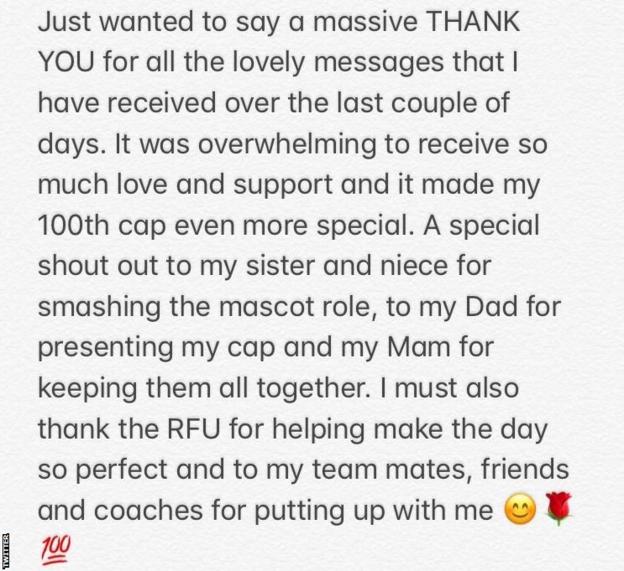 Fixtures:
18 November v Canada, Castle Park (Castle Park)
24 November v Ireland (Twickenham)