Ireland v New Zealand: Coach Steve Hansen expects Conor Murray to play
Last updated on .From the section Irish Rugby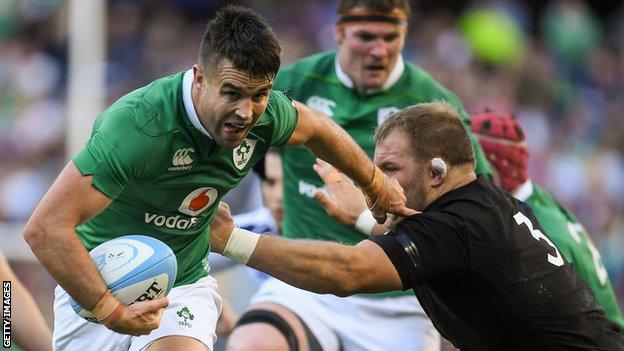 New Zealand head coach Steve Hansen says he expects Conor Murray to play for Ireland against the All Blacks in next weekend's Test match in Dublin.
The scrum-half last played in June on Ireland's tour of Australia and has been managing a neck injury since.
Ireland coach Joe Schmidt appeared to play down, but not rule out, the chance of Murray facing the Kiwis after Saturday's 28-17 win over Argentina.
"I believe Murray will play," said Hansen. "I just think he'll play."
"I'm not saying that to stir any trouble, I just think he's a real competitor. He'll want to play and if he's got a chance, I reckon he will play.
"If that's one of our guys in the same boat, they'd be putting their hand up to play," he added.
With Murray not named in Ireland's November Tests squad, Luke McGrath started Ireland's win over Italy in Chicago on 3 November, while Kieran Marmion was handed the nine shirt against Argentina.
Schmidt subsequently refused to rule Murray out of a sensational return against the All Blacks, saying it will be the player's call, even while admitting it was "highly unlikely."
After arriving in Dublin on Sunday following his side's narrow win over England at Twickenham, Hansen said he believes Murray will want to feature.
"I'm assuming Conor Murray will play, so they've got a good spine," said Hansen after mentioning Ireland's tactical smarts and aerial ability.
"He and Sexton are two of the best players in the world so they'll drive them around the park.
"Big players get up, and if they think they're right to play, then let them play. They're competitors and Conor Murray is a real competitor, so if he says he's right to play, he'll be right to play."
Irish forwards 'laid platform' for 2016 Chicago win
Murray was a try-scorer for Ireland in their historic first-ever win over the All Blacks in Chicago in 2016, although Hansen said his effectiveness that day was more down to his forward pack.
"I don't know that he did the damage," said Hansen. "I think the guys up front did the damage and that allows players like him and Sexton to be able to run the shop. It's the same with the loose forwards, they come into the game because your tight five control the game.
"That hasn't changed over time. When your tight five dominate, then your loose forwards dominate and your halves dominate. The difference is he's a pretty handy player so if he gets that chance, he's going to dominate."
Hansen is not playing down the significance of Saturday's game in Dublin as it pits the sides together for the first time in five years on Irish soil and less than one year ahead of the World Cup.
"Well, it's numbers one and two (in the world) so whoever wins will be the best side in the world regardless of ranking.
"That's what people will take out of it, it's going to be a goody."