England 15-16 New Zealand: England can take heart from agonising loss to mighty All Blacks

By Tom Fordyce
Chief sports writer
Last updated on .From the section Rugby Union535
Maybe someone needs to set up a Facebook support group for the myriad players and supporters in world rugby who think they have beaten the All Blacks only to end up with nothing. Springbok standing arm in arm with Irishman and Englishman. U ok hun. Big hugs. Xxxxx.
This was the 20th time since the 2011 World Cup that New Zealand have been behind at half-time in a Test. They have lost only four of those.
Comebacks everywhere, plenty from a long way back: 22-7 behind against Ireland in November 2013 before winning 24-22; twice coming from 17 points down against South Africa last month, including being 12 points down with four minutes to go; 15 points down here on Saturday with England rampant and hope springing and chariots swinging.
You don't fluke these things. Neither was England's early advantage anything but entirely deserved. In a contest worth waiting 1,463 days for, they started not just in a different gear to a week ago but in a different universe.
They were ferocious, disciplined, relentless in pace and wonderfully clinical. Chris Ashton finished like Twickenham remembered Chris Ashton finishing. The maul which brought the second try was both gloriously unpreceded and more cantering than rolling.
A game of fine margins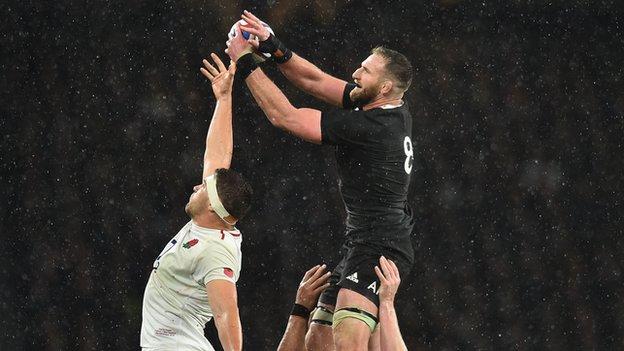 To see the world champions trampled underfoot made the sober in the stands giddy and the half-cut delirious. Had England finished as they had begun this would have been another famous win to chalk up next to the irregular glories of 2012, 2002 and 1993.
They came close. Instead those same tight margins and calls that had sprung them free saw them fall just short. A line-out that had been dominant in the first half creaked and then cracked. Penalties that were kicked to the corner rather than at the posts failed to bring the points the gamble demanded. A drop-goal at the death was never called.
All of it was understandable. This is a callow England side with half the caps of a touring team which has won the last two World Cups and is clear favourite for the next. Those penalties were from out wide and the rain torrential. The drop-goal, said skipper Owen Farrell afterwards, was coming before the ball was lost going wide.
'It was the right decision'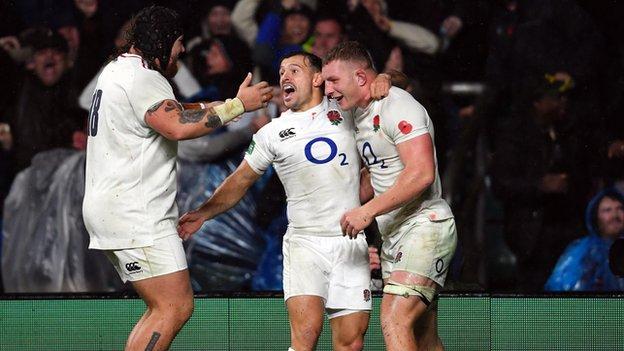 Many in the crowd thought it unfair, judging by the raucous boos that greeted the final whistle. Sam Underhill's late side-stepping try had the style to be deserving of winning a game rather than being chalked off well after his celebrations had finished.
For those who put poetry ahead of practicality it should have done. In the letter of the law it was instead the right decision. You might not agree with the idea that a TMO call should be for anything but a howler yet you cannot criticise officials for correctly enforcing the laws as they stand.
In those chaotic moments memories ran short. Against South Africa seven days ago England got the benefit of the TMO's call in the last act of the game to come through as winners by a single point. On Saturday they did not, and Underhill was left with a shiner rather than a try to talk about until his dotage.
Eddie Jones spoke afterwards of being devastated. He is also wise enough to understand that headlines are seldom the full story.
Another big lead lost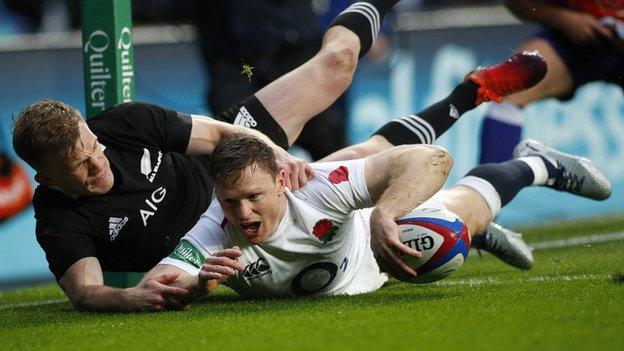 Just as the All Blacks have made a habit of pulling rabbits out of hats, so England have repeatedly let the cat out of the bag.
In three of their five matches against southern hemisphere opposition in 2018 they have established significant leads only to cede them: 24-3 in the first summer Test against the Springboks, 12-0 in the second and now 15-0 against the best around.
It might have been different had Farrell's attempted conversion of Ashton's try not hit the post, although no-one could blame him for missing from the touchline. The mangled re-start after Damian McKenzie's try at the end of the first half was rather more costly, creating the possession and pressure that led to Beauden Barrett's penalty a few minutes later.
They were grateful too for a profligacy from Steve Hansen's men that does not come along often, not least Aaron Smith's pass behind Ardie Savea when the openside had an open try-line ahead of him.
"Sometimes the game loves you and sometimes it doesn't love you," said Jones.
"We had the opportunities to win the game but we didn't take them, and they did, so they deserved to win the game."
Reasons to be hopeful for England
The All Blacks are not infallible. The Springboks proved that in Wellington and Ireland in Chicago. Some of this England team did so last summer in the jersey of the British and Irish Lions.
Neither, you got the sense all week, did this game mean quite as much to them as it did to the hosts. England had pined for this match-up for four years. You define yourself against the best, unless you are the best, in which case everyone you face is an underdog.
Maybe an England win wouldn't have changed much at all going into the next World Cup. The team that beat the All Blacks six years ago went out in the group stages when it really mattered. The New Zealand team that fell to the second biggest defeat in their history went on to retain their crown in untroubled fashion.
Yet against a side that had won 10 of 11 this year, that had 819 caps in its starting XV compared to 440 caps and that were only one player short of full first choice this was heartening stuff: a one-point loss when the average defeat handed out by the All Blacks in 2018 had been by 24; only one try conceded when the opposition had run in at least four in every one of their past 12 matches.
"I think we showed a lot of character in a hostile environment," said coach Steve Hansen afterwards.
So too did England. An autumn that began with problems across the park has brought a win and a loss that could both have gone the other way, but with them a definite sense of advance. Saturday was close enough, for now.