Warren Gatland enjoys rare Wales win over Australia to side-step losing blues
By Dafydd Pritchard
BBC Sport Wales at the Principality Stadium
Last updated on .From the section Welsh Rugby234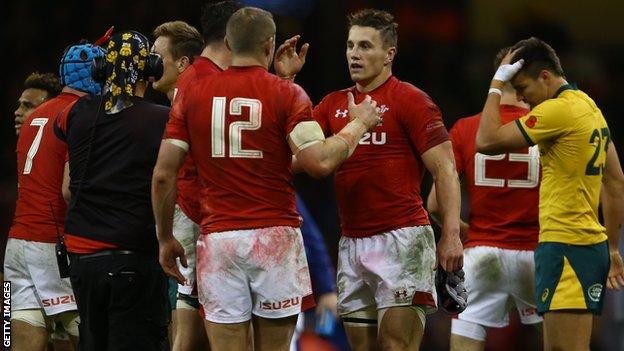 With time running out and the clock turning red, Warren Gatland felt the same, sinking sense of dread as the 64,110 Wales fans inside the Principality Stadium.
"I thought 'here we go, deja vu, we're going to lose in the last minute'," said the Wales head coach.
Wales were within touching distance of beating Australia, but they had been here many times before, only to lose in the most galling fashion. On 13 occasions, over 10 years.
But this time it was different.
Wales held on to beat Australia for the first time since 2008 and, in an ironic twist, this time it was them inflicting the late heartache on the Wallabies.
"We've learned from those experiences," said Gatland.
"Our composure towards the end - there was no composure from me, I was struggling towards the end - but in fairness to the boys they dug deep.
"From a defensive point of view, it's the most comfortable I've felt playing against Australia. That was really pleasing."
Victory, sealed with Dan Biggar's late penalty, made it seven successive wins for Wales, their longest winning run since 2005.
It was also a fine time to beat Australia, who they will face in their World Cup pool next year.
"We've spoken about what we try and do in terms of plans leading up to the World Cup and we feel like we've followed through on everything we said we'd do," Gatland added.
"I think the squad is in a great place at the moment. I think we're going to be building really nicely for the next 10 months and that's good.
"It's always nice to get that win against a southern hemisphere team."
Hooper rues spurned kicks
While Wales rejoiced in lifting a decade-long hoodoo, Australia were left to rue their squandered opportunities.
Twice they had the chance to kick at goal to take the lead in the second half. Twice they opted to kick to the corner. Twice they came away empty-handed.
"If I had my time again, I would have gone for the shot," said captain Michael Hooper.
"We wanted to go for the try and keep the foot on, but probably my reading of the game there was amiss.
"Hindsight is obviously a nice factor but I should have gone for goal."
This was an eighth defeat from 11 Tests for the Wallabies in 2018, way below the standards the two-time former world champions set themselves.
Despite surrendering their 13-game stranglehold over Wales, however, head coach Michael Cheika does not believe this result will have a bearing on their World Cup encounter.
"I don't think any [bearing]," he said. "My opinion is that when you get to the game, nobody is thinking about what happened 10 years ago, one minute ago. You're thinking about what you're going to do for the next 80 [minutes].
"Yes, it's in our nature to want to look at how this could affect that and the knock-on like it's a big game of dominoes, but it's not really.
"When that game happens it will be an individual moment of itself and it's about who will be best on the day."