Scotland 54-17 Fiji: Hookers continue prominent attacking role for Townsend

By Tom English
BBC Scotland
Last updated on .From the section Scottish Rugby40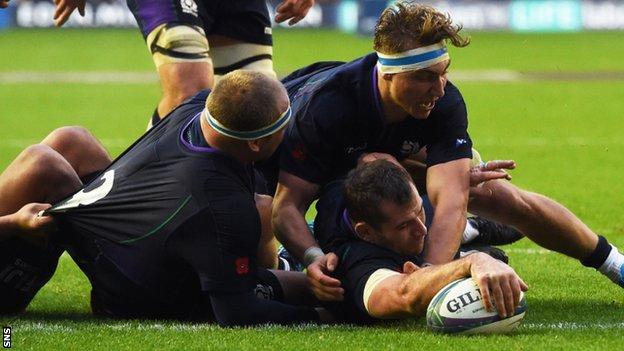 It's very possible that Scotland shredded the record books when they put Fiji away in an eight-try, 54-point rout that few at Murrayfield, or anywhere else for that matter, would have been expecting.
When the excellent Fraser Brown scored early in the Test he continued a run of try-scoring from Scotland's hookers that might have broken new ground in the international arena. It certainly obliterated anything we have seen from a Scottish team, that's for certain.
That's six games in a row where the man in the middle of Townsend's front-row has weighed-in with a score.
In that mini-run, Brown and Stuart McInally have two tries each and their understudy, George Turner, has four. Eight tries in six straight Tests from hookers? So much for the old maxim of piano players and piano shifters.
Roll it back further to cover Townsend's entire 16-game reign and the numbers only rise. Ross Ford now enters the equation with three tries. Three more go to McInally giving him a total of five and one more goes to Brown putting him on three.
In 16 Tests, Townsend's hookers have delivered 15 tries. In 92 Tests, Colin Deans and Kenny Milne, Scotland's magnificent Grand Slam hookers of 1984 and 1990, scored a combined total of five.
It's a radically different game now, of course. For a team that has a deserved reputation for playing off-the-cuff rugby through the creativity and intelligence of Finn Russell, Stuart Hogg, Sean Maitland and others, there is another side to Scotland. The less flamboyant brothers up front have grunted their way up the try-scoring table. Only centre Huw Jones has scored more than McInally in Townsend's time.
There was a lot to admire in Scotland's demolition job of Fiji. Finn Russell and Greig Laidlaw returned from France and brought a whole load of authority with them. They'll need the same again, and more, against the Springboks next Saturday.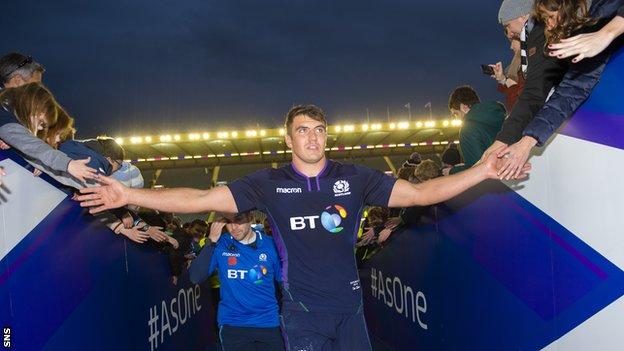 Pete Horne - his weird act of try-ruining butchery apart - reminded people that whoever else is in the midfield most of Scotland's better performances happen when he's a part of it. Sam Skinner had a promising debut at lock before switching to blindside and playing solidly there as well.
In August next year, Townsend is going to have to pick a World Cup squad and 'versatility' is going to be a much-used word in explaining why one player got the nod over another in a very tight call. Skinner will have to do it against a higher level of opposition, but the Exeter man is a contender now.
Part of the fun of these games comes in the analysis of how they might influence Townsend's thinking going forward. Jamie Ritchie would have been an outsider to force his way into the chosen 31 for Japan and, given the hitters he's got as rivals, he's probably still up against it now despite his massive work-rate against Fiji. He's a danger to the established order, though. He's a hungry boy with a seriously good attitude and enough game to make that plane if others ease up.
What do we make of Josh Strauss? Early in the Test against Fiji, the forgotten man replaced Matt Fagerson, who was himself upping the ante out there when he had to come off, and went on to show that he can do the kind of things that other Scottish back-row forwards struggle to do.
In fairness, the contest was long over with 12 minutes to go, but when Strauss took the ball up and blasted Ben Volavola out his road before eating up ground into Fiji's 22 you were reminded that Strauss still has things to offer. That raw power is still in him and it's a handy weapon to have, maybe not as a starter, but as a bench man coming on for a thunderous 20 minutes at the end of a close game? He can't be discounted.
How good it was to see Tommy Seymour getting on the end of things in the blue jersey again after going a year without a try for his country. These have been challenging times for Seymour on a number of fronts.
His position in the side, for so long nailed-on, has come under threat from the emergence of Blair Kinghorn, but this was a return to form that will have pleased Townsend no end. Seymour and Maitland remain the best all-round wings he has. Maitland is playing some of the best stuff of his life right now. He doesn't quite get the acclaim of Russell and Hogg, but in his cleverness in attack and his organisation in defence, Maitland has become a giant of this team.
A half-century of points got Murrayfield on its feet, but there were issues that the Springboks will be poring over this week. For two Tests in succession, Scotland have fallen off tackles and have conceded tries. It might have been a 50-pointer but rugby coaches are obsessive beasts and Townsend's team - his defence coach Matt Taylor chief among them - will be troubled by some of what he has seen.
Those early Fiji tries didn't cost them but better opposition wouldn't be so accommodating. A week earlier, Wales got their scores and then relied on their defence to protect their lead in a way that Fiji could not. That's what the elite can do. That's what South Africa can do, too, if Scotland's defence doesn't put up the best version of itself.
It's hard to know where, exactly, the Springboks are at it in rugby's big picture. After their victory over New Zealand in New Zealand and their near miss at making it a double in South Africa, there was understandable excitement about them leading a challenge to the Kiwis in Japan. They share the same group at the World Cup.
Since then, a defeat that should have been a victory against England last week and a victory which should have been a defeat against France. That was a thriller at the Stade de France, a Test that the French were lording it over at 23-9 early in the second half and one that was settled with an epic score in the last seconds that gave South Africa a 29-26 victory.
Whatever the true global significance of South Africa's revival we know that it's for real. We'll have to have wait and see if it's enough to take down the All Blacks at a World Cup as opposed to a Rugby Championship, but they're a fast-improving force under Rassie Erasmus.
Next Saturday will be an examination of everybody's mettle - Scotland's and South Africa's. Townsend's team had a hugely satisfying end to a potentially very searching afternoon against Fiji, but the Springboks are on their way now and with them comes the certainty that for all the feelgood of a 50-pointer, the biggest test is about to unfold.