Scotland v Fiji: Ferocious visitors mind hosts not to rest stars in Autumn Test

By Tom English
BBC Scotland
Last updated on .From the section Scottish Rugby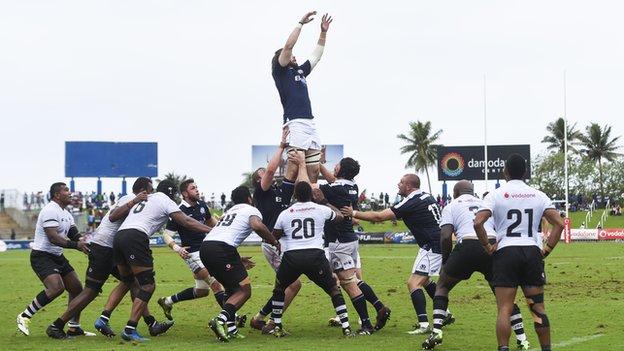 Scotland v Fiji
Venue:
Murrayfield Stadium, Edinburgh
Date:
Saturday, 10 November
Kick-off:
14:30 GMT
Coverage:
Live on BBC One, BBC Radio Scotland the BBC Sport website and app. Live text on BBC Sport website
The last time Scotland played Fiji was two summers ago in Suva, and unless you've been hiding under a rock - probably the best place to be on the day - then you'll know how it ended.
Or how it began. The local band's rendition of Flower of Scotland that afternoon was so out of tune that it could have served as a portent of doom for the visitors.
Saturday should be different. Gregor Townsend's team have won eight of their past nine at Murrayfield. Vulnerable on the road, but consistent at home. They've seen off Ireland, Wales, Australia, France and England. As dangerous as Fiji are, there'll be tremors in Edinburgh if they are not added to that list.
The big news is the return of Stuart Hogg ahead of schedule, the renewed partnership of Finn Russell and Greig Laidlaw at half-back, and the debut of Sam Skinner in the second row. Class and creativity and experience and leadership - some of the things missing in Cardiff last weekend when Scotland lost 21-10.
The re-emergence of Josh Strauss is another sub-plot to all of this. For more than a year now rugby fans in Scotland have wondered why Strauss had fallen so far out of favour with Townsend. In selection terms, the No 8 was residing in a bunker in a remote suburb of Nowhereville in the province of Wilderness.
Scotland's loss in Suva was the endgame for him. His work-rate was poor, his involvement in the game was peripheral, this time was up. Until now. Strauss lives again only because of injuries to others. Everybody has seen how good he can be at his best, but his best became too infrequent. However many minutes he gets on the field he'd be as well to make the most of them because he's still playing to a sceptical audience in Townsend.
'Fiji a reminder of why we fell in love with rugby'
When Fiji run on to the pitch at Murrayfield on Saturday, it will be hard to resist the urge to look at them in awe for what they are and exhilaration for what they might be if they were only given a fair crack of the whip by the world game.
Here's a stat for you. Since the last World Cup, Fiji have played 17 Tests with only six of them coming against Tier One opposition. In the same period of time, Scotland have played 30 Tests with 23 coming against Tier One opposition.
Everybody raves about how brilliant Fiji are. In a BBC Scotland Podcast this week, Townsend called them the Brazil of rugby. In a BBC interview with Chris Paterson, Greig Laidlaw said they were the epitome of what is great about the game.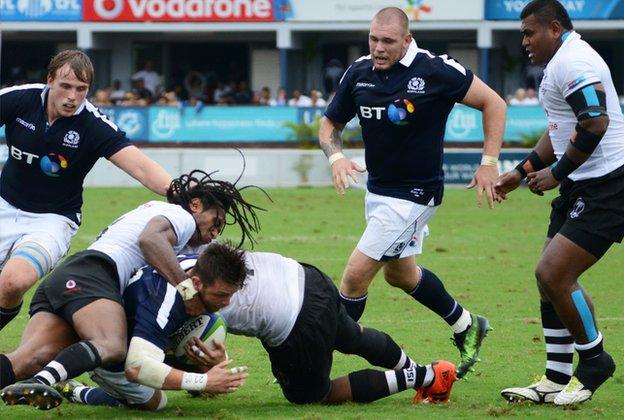 The Scotland captain was dead right. Fiji, with their risk taking and their madcap offloads delivered by their telescopic arms and aided by their x-ray vision, are a near constant reminder of why we all fell in love with rugby in the first place.
But hardly any major nation ever goes there to play them. Scotland are one of the rare exceptions. It's been 20 years since France played Fiji in Fiji. Wales have not played a Test there in 24 years. For England, it's 27 years. For Australia, 34 years. For Ireland, 41 years. South Africa and New Zealand have never played a full Test in Fiji, possibly because they fear what might happen if they did.
One of the abiding images of Scotland's Test in Suva in 2017 - apart from the gruesome sight of Fijian forwards leaving Scottish backs as roadkill in their wake - was a post-match interview with Nick Grigg, who had just made his international debut in the 27-22 defeat.
Grigg, playing in a midfield that was somewhat overwhelmed, said he touched the ball about three or four times in the match, but in every sense he tried to put a brave face on what had happened to him out there. As he spoke you could literally see a dark bruise under his left eye beginning to bulge. By the time the chat was over he was well on his way to metamorphosing into a rugby version of the Elephant Man.
The Scotland centre's plight was only one memory of that day. There were others. There was one even before a ball was kicked that gave you a little snapshot of the story of Fijian rugby. Some warriors from the past were brought on to the pitch to take the acclaim of the home crowd.
The former hooker Atonio Racika, the lock Nasoni Uluvula and the flanker Ilami Lutumailagi were among them. In the 1970s and 1980s they had a shot at playing Tier One nations and those games against England, France and New Zealand ranked among the highlights of their careers.
'Scotland need confidence & momentum'
For Fiji, those games had the status of Test matches. For England, France and New Zealand, they did not. Fiji were deemed not important enough opposition to warrant caps for those who played against them. Now? Every club in France is bending over backwards to woo the next great Fijian powerhouse wing.
There's a fast-moving conveyor belt on that front. Fiji have their pick of multiple frightening operators out wide and any pack of forwards that has Racing's Leone Nakarawa, Edinburgh's Bill Mata and Clermont's Peceli Yato in their ranks has a core of world class.
If they only had the time together, the finance, the organisation and the influence at the top of the game as other nations have then Fiji would be a ferocious prospect. As it is, they're enough of a threat for Townsend to resist whatever urge he might have had to rest Russell and Laidlaw ahead of the South Africa and Argentina games.
Control and leadership is needed there to limit the possibility of an upset. After the weary predictability of Cardiff last weekend, Scotland need to find some confidence and momentum for the final two weeks of the autumn and the fierce examination they'll face against the Springboks and the Pumas.
On Saturday, a few of them might end up looking like a version of Grigg after that game in 2017. As long as they're not bemoaning a loss as well as a rearrangement of their features then they'll take it.