Richie McCaw thinks New Zealand would break with tradition in order to appoint Joe Schmidt

By Orla Bannon
BBC Sport NI
Last updated on .From the section Irish Rugby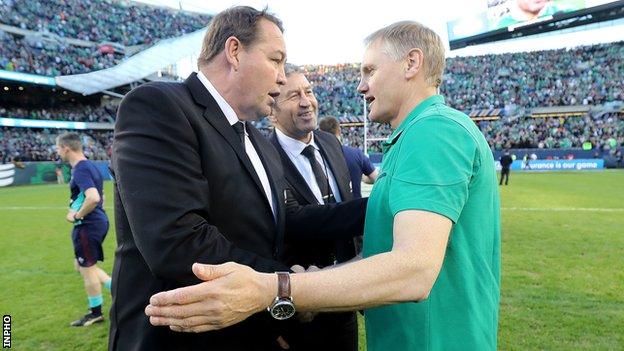 All Blacks legend Richie McCaw says New Zealand would dispense with a tradition of appointing from within if they could lure boss Joe Schmidt from Ireland.
The Kiwi has worked overseas since 2007 and is inexperienced in Super Rugby.
However, McCaw says the NZRU would be "silly" not to try and bring Ireland's Grand Slam-winning head coach home after the 2019 World Cup.
New Zealand face England at Twickenham on Saturday and Ireland in Dublin a week later.
Schmidt, who has won a Grand Slam and two Six Nations Championships since joining Ireland in 2013, is to decide at the end of November whether to extend his contract beyond next year's World Cup.
"I think everybody sits there hoping one day he'll come back and put himself back in the mix in New Zealand, and we get the benefit of all the experience he's had at an international level and at club level as well," said McCaw.
"He's been away for a while, but there's no doubt among the people who understand rugby that he has a very good way of looking at the game.
"He's quite innovative and looks at ways of pushing everyone to get better.
"I think he's probably quite an intense character but that drives a standard of excellence - and that's the view a lot of people have," he added.
McCaw is quick to name-check homegrown coaches working within Super Rugby in New Zealand, who will also be contenders to succeed 2015 World Cup-winning coach Steve Hansen when the time comes.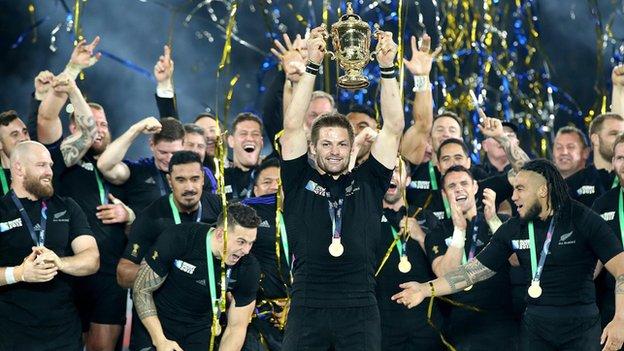 Scott Robertson (Crusaders) and John Plumtree (Hurricanes) are among the names he mentions.
He said: "We're pretty lucky there are guys there who will put their name in the hat, but they [New Zealand] would be silly not to look at Joe Schmidt or [ex-Scotland boss] Vern Cotter - guys that haven't been coaching in New Zealand but are the right men for the job.
"From Ireland's point of view, you want to try and lock him in and from New Zealand's point of view, if Steve doesn't continue they're going to want all the options on the table.
"It will be hard for Joe because he wants to concentrate on doing a good job for the next 12 months but it would be pretty good to have a coach like that looking around."
McCaw, 37, does not believe the All Blacks' results against England and Ireland in the next eight days will be particularly relevant by the time the World Cup comes around.
"It doesn't mean a whole lot when it comes to the World Cup, but it is quite interesting to see where it is at this point," he said.
"The All Blacks haven't played England for a while.
"Although their form hasn't been as good as it has been results-wise, that's still a tricky match.
"Then it is Rugby Championship champions versus Six Nations champions. That makes the next two weekends pretty big.
"I guess a lot of our guys will be looking to get through this first week and get that right.
"But come Sunday they'll be realising they've got to do it all over again."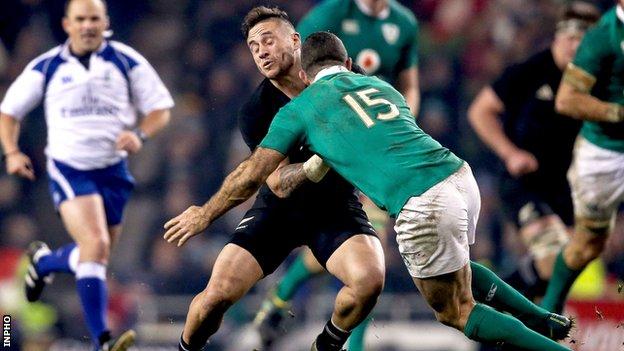 Ireland recorded a historic first victory over New Zealand in Chicago in November 2016.
The World Cup winners responded with a 21-9 victory at the Aviva Stadium two weeks later.
They have faced a lot of challenges since but McCaw, who retired in 2015 after becoming the only player to captain his country to back-to-back World Cups, expects the Chicago setback to still have some relevance when the counties meet in Dublin on 17 November.
"The guys will still have it in the back of their minds, but the best thing about it is that you know from first-hand experience that you're facing a team that can knock you over if you don't get it right," he said.
"It was disappointing to lose as it always is, but there was a lot of respect for the Irish and how they went about it.
"I always go back to the 2013 game [in Dublin] - it went to the wire and there were a few times when the result was hanging in the balance.
"At some point the Irish were going to find a way through. It was inevitable."