Jamie Roberts: Centre recalls his fractured skull in 2008 Wales win over Australia
By Gareth Griffiths
BBC Sport Wales
Last updated on .From the section Welsh Rugby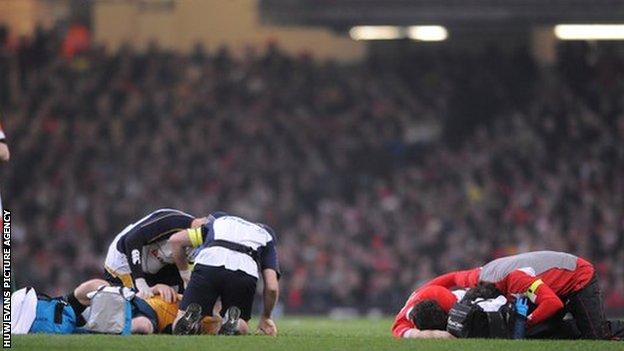 Wales' victory over Australia in 2008 was a memorable occasion for many.
It was certainly a day Jamie Roberts has not forgotten, despite suffering a fractured skull in a sickening third-minute collision with Australia captain Stirling Mortlock.
The Wallabies skipper was unsurprisingly taken off, but Roberts remarkably carried on for 15 minutes and even played a role in the opening try for Shane Williams.
His headache became too painful and brain fluid started to trickle down the back of his throat as he was forced off the field.
Scans were later to reveal Roberts had suffered a fractured skull in the collision with Mortlock.
"I will never forget shaking hands and swapping jerseys in the medical room afterwards with Stirling Mortlock," said Roberts, who has forged a dual medical career alongside his rugby one.
"He told me it was the cheapest cap he ever earned after coming off after three minutes!"
Roberts can joke about the incident now but the 94-Wales cap centre recognises it could have been more serious and that, a decade on, times have changed when dealing with head injuries.
"The thing that resonates is how far the concussion protocols have come since that time," said the 31-year-old Bath centre Roberts, who has not been included in Wales' squad for their autumn internationals.
"If that sort of collision happened now there was no way I would have stayed on the park.
"You never want to come off in Test rugby; unless you have a broken leg or a broken bone in your body you don't want to go off injured.
"I remember thinking just that. I was a young lad, just 21 years of age and I did not want to come off regardless of how much it was hurting.
"I battled on and I just knew 10 or 15 minutes later and I knew I could not carry on."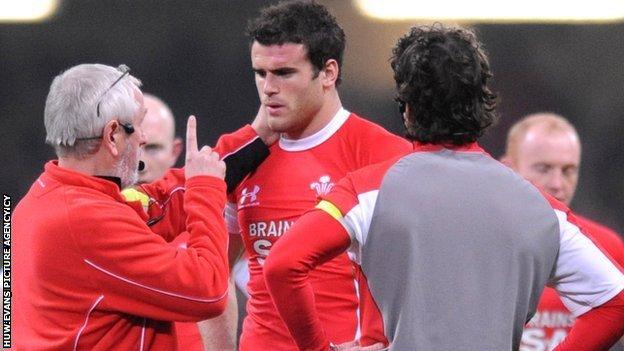 Roberts was not knocked out, as he recalled the incident in the first half of the 21-18 victory.
"Andy Powell took a quick tap from a scrum free-kick and I just remember running a decoy line off Gareth Cooper," said the British and Irish Lion.
"The next thing I remember was taking a hell of a knock and a massive bump to the head that really hurt.
"It was a great day, regardless of only lasting 10 or 15 minutes, for the lads to win that match against a strong Australia side.
"I hope the lads can do it on Saturday because we have a great side and it is time we beat them."
Roberts is referring to the 13 successive defeats Wales have suffered at the hands of the Wallabies since that game 10 years ago.
Wales go into this game third in the World Rugby rankings, having won six successive matches for the first time since 2012, while Australia are ranked sixth having lost seven out of 10 Tests this year - albeit with five of those defeats coming against New Zealand and Ireland.
Roberts hopes this will be the year Wales finally break their drought, but insists history does not weigh on the current crop of players.
"I am sure the lads are raring to go," said Roberts.
"It has been a while since we have beaten the Australians. In Test rugby nothing that has gone beforehand will affect what will happens on Saturday.
"People like to make a lot of that record of not beating Australia in 10 years. Saturday is a new game with a fresh squad and the lads will give it their best shot.
"Australia are a side that peak well going into a World Cup and always do well in the tournament.
"It will be an intriguing battle and I am looking forward to the Welsh lads putting their best game on the par.
"If they do that, I think they will beat this Australian side."