'This is crazy...sometimes I have to pinch myself' - Ulster prop O'Toole
Last updated on .From the section Irish Rugby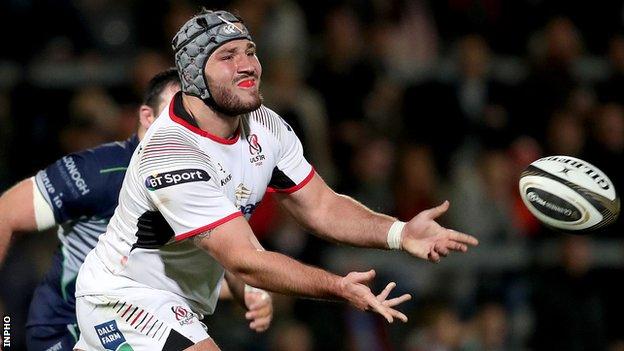 Twenty-year-old Ulster prop Tom O'Toole says he "sometimes has to pinch himself" that he is part of the same Ulster squad as players of the pedigree of Ireland captain Rory Best.
O'Toole burst onto the scene with Ulster at the end of last season and has made seven appearances this term.
"It's just been phenomenal and Rory has been like an extra coach to me.
"I talk to some of the other young lads and we say 'This is crazy. It shouldn't really be happening'," said O'Toole.
"Some of the boys I'm playing with, like James (Hume), I was playing against at school and others for the last two or three years we've been playing together at Under-18s or Under-19s. To be doing it with the senior team is mad.
"To be all out there on the field and performing well and gaining experience is really encouraging. It's not so threatening when you have other guys, your mates, beside you. It's awesome," added the tighthead.
O'Toole was handed an upgraded development contract in August and at the end of this campaign will move onto a senior contract which will see him remain at Kingspan Stadium until 2022.
'My friends are talking about university...I'm talking about scrummaging'
"Having my contract bumped up and doing the whole pre-season with everyone at Ulster has been so exciting. Sometimes you have to remind yourself how young you are.
"All my friends are talking about university and I'm talking about scrummaging and putting my head in mauls, that type of thing.
"Between the coaches and the senior players I'm learning a lot. There are things I get wrong but I'm looking at my analysis and learning and steadily getting into the season.
"I'm getting a lot of opportunities and it's been a phenomenal start to the season. Sometimes I have to pinch myself about the opportunity I've been given and the players I'm playing with."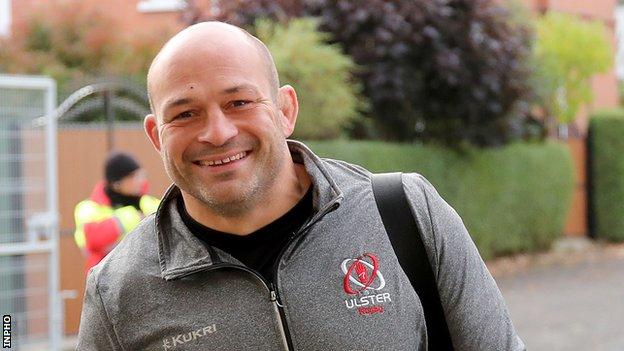 O'Toole singles out Ulster skipper Best as being particularly influential in his rise through the ranks with the Irish province.
"Rory is such a great leader - he's been so good to me, guiding me along the way and giving me tips.
"He's not a prop but he's very close to me in the scrum and has been helping me out with my scrummaging. He's been awesome - very patient and really helping me to develop.
"Every week presents a new challenge, looking at the opposition and seeing what threats they pose."
Preparing for 'extremely physical' Uruguay
O'Toole is set to be one of seven or eight Ulster players who were part of the match-day squad for the weekend Pro14 win over Treviso who will feature in Friday's game against Uruguay at Kingspan Stadium.
Academy head coach Kieran Campbell is assuming the role of head coach for the week and says the side that will face a Uruguay squad, who are rated 18th in the IRB rankings, will feature "a reasonably experienced side mixed with a young blend".
"We're starting to develop guys of the requisite level to play for Ulster and we're delighted with the caps they're getting - and they're not just getting them, they're performing when they're getting them and being part of some successful results," said Campbell.
"We want to produce guys who are going to perform week after week and reach Champions Cup standard. Jacob Stockdale is the perfect example of the calibre of player we want to produce.
"We've done our analysis on Uruguay and we want to put in a really good performance. We intend to play with a lot of tempo and it should make for an exciting game.
"We're expecting a tough game as they are big up front and extremely physical. They counter-attack really effectively so we're going to get a confrontational game.
"We must be prepared to match that and respect that they have the ability to move the ball as well."