Sara Cox proud to be inspiration for female referees after making English rugby history
Last updated on .From the section English Rugby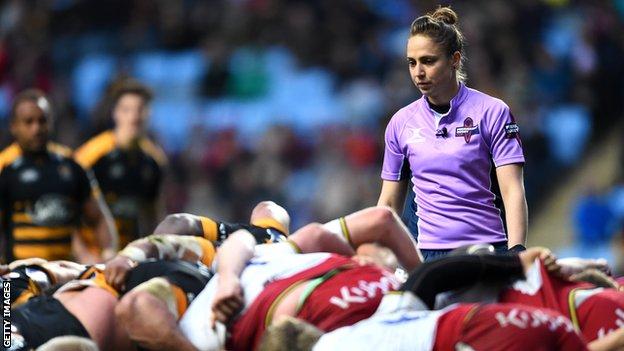 Sara Cox says she "enjoys" being an inspiration to others after making English rugby union history on Sunday.
The Rugby Football Union (RFU) made Cox the world's first female professional rugby referee in March 2016.
"I enjoy that I'm potentially someone that somebody can look up to," she told BBC Radio 4.
"If I can inspire someone that looks in and says they'd really like to give that a go because they've seen me do it, I think I've achieved what I want to achieve within my career."
Reaction to appointment 'hugely positive'
It was confirmed on 31 October that Cox, who was the only English referee to officiate during the rugby sevens tournament at the 2016 Olympics, would be in charge of Sunday's match at the Ricoh Arena.
Speaking to BBC Sport, she continued: "The reaction has been hugely positive and I didn't expect it at all.
"It's taken me by surprise, the amount of support I've had from the RFU and members of the public.
"It's lovely to see that engagement and how wide that engagement is as well."
Mitch Eadie's late try saw Northampton come from behind to win the game and go top of Pool Three.
"It was a great experience and to be a part of the occasion was something I don't think I'll forget very quickly," said Cox, who is from Exeter.
"As far as how the game went, I'm yet to go back and review it. That's one of the plans over the next couple of days - to sit down with the reviewer and go through it minute by minute.
"The pace of the game was quick and it does differ from the Championship and some of the other games I've been doing.
"The size of the hits were considerably larger to what I've been used to. It was a great game, very free-flowing in the second half, and it was good to get a good runaround."
Cox's next assignment is in Toulon on Friday, when she will take charge of a women's international between France and New Zealand.
"As for the future, to be honest I really don't know," she added. "It's not something I've got control of.
"I've set myself up to be in the best possible position to be selected, but the selection process itself is not something I can control so I'm just focusing on next week."