Nathan Hughes will learn from tweet ban - Eddie Jones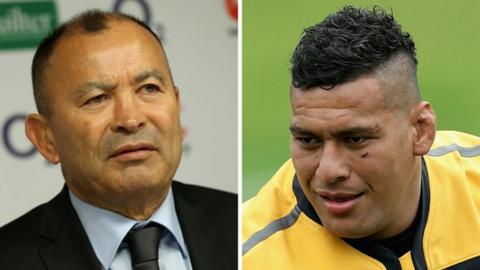 England's autumn internationals
Live radio commentary on BBC Radio 5 live, with highlights on BBC Two and online
England number eight Nathan Hughes "deeply regrets" a tweet that contributed to an additional two-week ban, says his coach Eddie Jones.
Hughes was banned for four weeks for a punch, but had his suspension increased after tweeting "what a joke" in apparent reaction to the charges.
"He regrets it deeply," said Jones. "We have all done silly things when we are angry, he will learn and come back."
Jones cited England's football team as a good model for using social media.
Several members of the Rugby Football Union have met with their counterparts at the Football Association to learn how Gareth Southgate's side engaged with fans en route to the World Cup semi-finals earlier this year.
"Social media is about discipline - the discipline to not say what you say, unless you are the US president," said Jones in reference to Donald Trump's outspoken style on Twitter.
"Secondly it is about using it as a conduit for the fans to be as close to the team as possible.
"We used to have players who would come off and mix with the fans. Now it is almost impossible to do that with security and the way some fans behave - so the way that you can use social media to gain a greater connection is vitally important.
"We will get that in place over the next 12 months so we are ready at the World Cup to be our best on social media."
Jones says he would find it tricky to practise what he is preaching, however.
"I don't think so. I would be dangerous!" he replied when asked if he would make his own social media debut.
'We'll give him as much support as we can'
Jones says he is more concerned by Billy Vunipola's mental health after the number eight broke his arm for the third time in nine months.
Saracens' Vunipola said on Instagram that the injury - which rules him out of the autumn internationals - "cut me through".
Jones said: "He will be OK, he will be all right. Sarries will look after him, the main thing is that he keeps mentally strong.
"Everyone can help him with that, He has a good family around him, a great brother, great coaches at Saracens. We'll give him as much support as we can.
"It is disappointing for him, but he is a strong character and he will come back."
Vunipola's absence has prompted Jones to call on Gloucester's Ben Morgan, ending a three-year exile from the England set-up. Bath's Zach Mercer is the other number eight in the squad.
Jones says that Morgan's ball-carrying ability is crucial in a top-level number eight.
"Every World Cup has been won by a team with a big number eight - you need to have someone who can create momentum in that area so that gives Ben advantage... but Zach has got other attributes so we will be looking at those two to see how they come through," he said.