Edinburgh need 'best performance' under Richard Cockerill to beat injury-hit Montpellier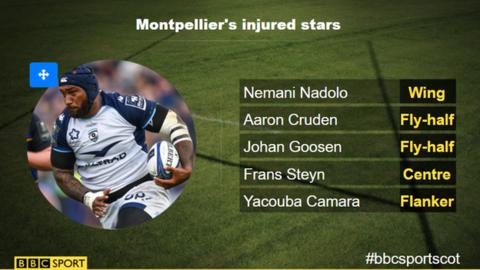 Heineken Champions Cup
Venue: Altrad Stadium Date: Saturday, 13 October Kick-off: 15:15 BST
Coverage: Live commentary on BBC Radio Scotland, score updates on BBC Radio 5 live sports extra, and live text commentary on the BBC Sport website
For months now, the sound of a reverberating thud has been heard almost on a loop in the rugby quarters of the beautiful city of Montpellier in the south of France. Big name after big name has hit the floor injured. They've been falling not like flies but like buffalo.
The giant, prolific and positively terrifying Fijian wings, Nemani Nadolo and Timoci Nagusa, both out of the team to play Edinburgh in the opening round of the Heineken Champions Cup at the Altrad Stadium on Saturday.
The first-choice fly-half, All Black Aaron Cruden, also gone. His back-up, Johan Goosen, a fallen man as well. Francois Steyn, a starter in the midfield and an option at 10, yet another key player who will be in the stand rather than on the pitch at the weekend. Yacouba Camara, open-side flanker for club and country, will be up there with him.
Of course, Edinburgh coach Richard Cockerill's heart will not be bleeding for his counterpart, Vern Cotter, who is now one of the best-paid coaches in rugby and has one of the best squads in the game.
Montpellier are bankrolled by the billionaire Syrian, Mohed Altrad. Raised in a tent by his grandmother and expected to have a life as a shepherd, Altrad never watched a game of rugby live until he bought the French club on the back of a (first) fortune made in scaffolding. On his watch, they don't lack for much.
Cockerill spent long enough in France as a player - with Clermont - and as a coach - with Toulon - to know how things are. Montpellier are missing three stand-offs and have had to promote a scrum-half to play 10 against Edinburgh. The fact that the scrum-half-cum-fly-half is Ruan Pienaar tells a story. As break-glass-in-case-of-emergency options go, Pienaar is the man you'd want.
Montpellier might be going into this game with Edinburgh with a patched-up backline - Benjamin Fall and Pienaar are the only survivors from their Top 14 final loss to Castres last season - but the pack is more or less the same. And it's ferocious.
In Mikhail Nariashvili, the 51-cap Georgian, Bismarck du Plessis, the 79-cap Springbok, and his brother Jannie, who won 70 caps, Montpellier have a front-row of raw power and undiluted aggression. They have snarl throughout that pack which is led by the great Louis Picamoles at number eight.
So no, Cockerill won't be sympathising with Cotter or his assistants, Nathan Hines and Richie Gray.
That coaching group at Montpellier, with all their years working in the Scottish system, is an intriguing subplot. Cotter remains a keen observer and a heartfelt supporter of the game here. His years in charge of Scotland made a mark on him. The manner of his farewell - a standing ovation at a packed Murrayfield - reduced him to tears. Not many, mind. But enough.
'If Edinburgh's forwards can win the battle, they've got a chance'
Edinburgh are recovering from a ropey start in their league and so are Montpellier. Edinburgh's core strength is up front and so is Montpellier's. Edinburgh's delight at returning to Europe's top table is obvious, but where Montpellier's interest level is at is a little harder to gauge.
With them, there are always question marks when it comes to their true commitment to European competition. They've played 37 games in the Champions Cup and have won only 14 of them. Montpellier have only ever made the quarter-finals once and that was the 2012-13 season. Even then, they got walloped by Clermont in the first knock-out round.
True, they won a Challenge Cup in 2016 but it wasn't enough for unpopular coach Jake White to keep his job. Success in second-tier competitions in Europe doesn't float Altrad's boat. Success in the Champions Cup may not float it either. If they get off to a losing start in their group, they've never given the impression of a club that was hell-bent in turning things around.
This is a club that craves a French championship more than anything else. It's not a priority, it's an obsession and after losing to underdogs Castres in last year's final its more of an obsession now than it has been at any time since Altrad got involved in 2011.
If Edinburgh's forwards can win the battle then they've got a chance. Forget all else; that impressive-looking Edinburgh eight have to bring intensity by the planeload to France. Nothing they've done so far in the Pro14 will be anywhere near good enough. Even their best stuff of this season will end with a convincing defeat in Montpellier. They need to go deeper, a lot deeper.
It's possible, if a little improbable. Cockerill has little truck with the idea that Montpellier are a diminished force but quite obviously they are. With Cruden, Goosen, Steyn, Nadolo, Nagusa and Camara all fit, Edinburgh would need a triple miracle.
Without them, the best performance of the Cockerill era would at least have them coming down the stretch with a shot.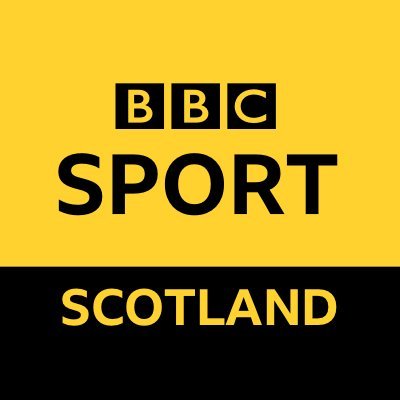 Pick your Edinburgh XV
Pick your starting XV for this weekend's game