Stadium for Cornwall: Cornish Pirates pledge extra £1m amid Truro City concerns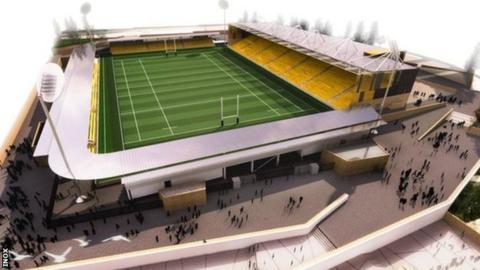 Cornish Pirates have pledged an extra £1m towards the Stadium for Cornwall project amid worries over Truro City's ability to contribute.
The football club, the Pirates and Truro and Penwith College had each pledged £2m to the scheme.
Another £6m will come from Cornwall Council and central government.
But there are concerns that Helical, the firm that bought Truro City's ground, will not pay the club before construction is due to start.
"There has been doubt raised about the other £2 million coming through Helical to Truro City FC and onto the stadium," a statement from the Cornish Pirates read.
"Consequently, the original two partners have made arrangements to increase their contribution by at least £2 million to cover any possible shortfall arising from delays/non-performance of Helical in assisting Truro City with their promised contribution.
"We will obviously accommodate Truro City to play at the stadium when it is completed."
Truro City chairman Peter Masters is to hold a meeting with supporters later this week to update them on the club's situation.
City moved out of their former Treyew Road home shortly before the start of this season in order to allow building work on a supermarket at the site to commence.
They are groundsharing with National League South rivals Torquay United - a 180-mile round trip for each home game - and have the lowest average attendances in the league at just over 200.
"Treyew Road was sold by my predecessor to developers, that's the position I inherited," Truro chairman Peter Masters told BBC Radio Cornwall.
"We've been fighting that for five years to get a position, the Stadium for Cornwall is our ticket to get out and do what we need to do, and our contribution to that might be at risk at this point."
It is hoped that the new stadium will be finished by April 2020.