Edinburgh 31-30 Benetton: Richard Cockerill bemoans 'horrible' defence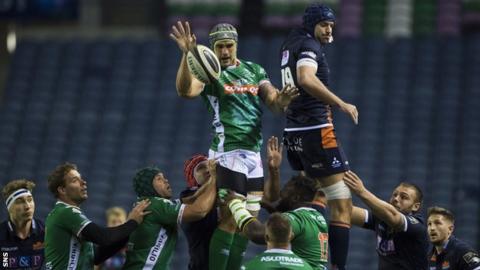 Edinburgh "should have lost" and their defence was "horrible" in their 31-30 win over Benetton on Friday, says head coach Richard Cockerill.
Benetton outscored their hosts in tries but missed four conversions at Murrayfield, with Simon Hickey more accurate with the boot for Edinburgh.
"If they convert the last try, they win. It's as simple as that," Cockerill told BBC Radio Scotland.
"We were lucky. Mentally, defensively, we were way off where we need to be."
It was Edinburgh's second Pro14 win of the season and they registered their third bonus point from five games to draw level on 11 points overall with Benetton in Conference B.
Cockerill said his side were more than happy to secure five points but that some of their play without the ball left plenty to be desired.
"I've just spoken to the guys in the changing room. We're not going to accept that level of commitment defensively. It's not good enough," he said.
"We did enough to make that a decent victory. It's a good win but it's a pretty poor performance in the end. It's not like us. It's not something that I want to repeat."