John Mitchell: England's new defence coach says commuting from South Africa is no issue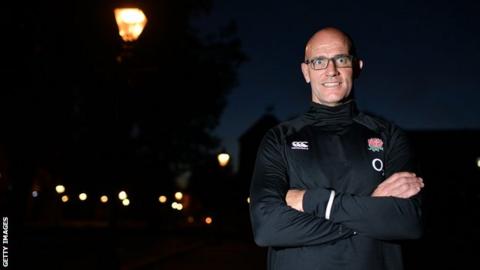 England's new defence coach John Mitchell says his decision to remain living in South Africa will not affect his duties.
The former New Zealand boss will remain in the role until the conclusion of next year's World Cup and will reportedly earn £300,000.
In his first radio interview, the 54-year-old told BBC Radio 5 live: "It won't stop me being the best I can be.
"And it certainly won't stop me being available."
Mitchell, who previously coached England's forwards under Sir Clive Woodward in the late 1990s, said his family were settled in South Africa which coincided with his stint at Bulls and Blue Bulls last year.
"I'll spend more time here than in Durban," he told the BBC's Sonja McLaughlan. "I have a young family, and a daughter to get through high school - it's important to make sure she's settled.
I'll be with the team for long periods and the family will join me for parts of it. If I go back, it's only an overnight flight.
"If I perform well and there's an opportunity to stay on in England, then relocating becomes an option.
Mitchell will be working under England's Australian head coach Eddie Jones, who is reported to be a demanding character.
When asked whether that concerned him, he said: "That's a perception, but it's not always the reality. The truth is: What coach doesn't challenge? It's not our job to make people comfortable. I've been challenged already and if it improves the way we're going to play, that to me is great.
"I find Eddie great, very easy - we're very much face-to-face, belly-to-belly - he knows me well enough. When you're [over] 50 years of age, like both of us are, you learn to evolve and learn to understand personalities."
And about his own reputation of being a spiky person, he added: "I think I've mellowed a fair bit. We do make mistakes and we're also allowed to develop. I coach far differently than maybe I did 20 years ago.
"You don't always get it right, but it's not something that worries me. I'm comfortable with who I am and what I do."