Scotland women's rugby 'needs paradigm shift' to compete with fully professional England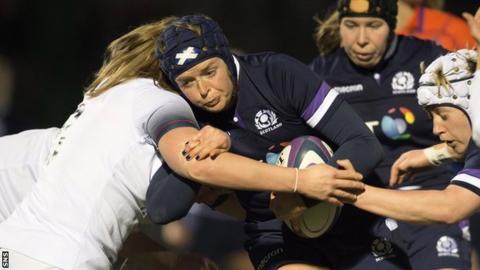 Scotland's women rugby players may have to wait several years before they can compete with a fully professional England squad, believes Scott Hastings.
The Rugby Football Union has reintroduced contracts to make 28 of England women's 15-a-side players fully professional from 1 January.
Scotland recently increased their number of professionals to eight.
"Ultimately I can see in three to four years there will be wider contracts for the female game," Hastings said.
"We are behind the ball-game but things are definitely changing for the women's game in Scotland," former Scotland and British and Irish Lions centre Hastings told Radio Scotland.
"It is growing, more and more kids are playing it, there are different formats with seven-a-side, touch rugby and tag rugby.
"It's not the paradigm shift that we perhaps need to compete with the likes of England and New Zealand and Australia, but it is starting to gain momentum.
"As we all know, the Scotland women's football team have qualified for the World Cup, and there are a lot of sporting bodies that are looking at female sport thinking 'what can we do to get to that level?'"
Jade Konkel became Scotland's first professional player two years ago and will play for Harlequins in England's Premier 15s competition this season after a year playing in France with Lille Metropole.
Fellow Scot Chloe Rollie will be joined at Lille by national captain Lisa Martin, with Helen Nelson also now in France at Montpellier.
Lisa Thomson has moved from Lille to Darlington Mowden Park, with Sarah Bonar also playing in England with Loughborough Lightning.
Megan Kennedy (Stirling County) and Lana Skeldon (Watsonians) are Scotland's two home-based players.
Scotland Women secured their first Six Nations victories for seven years in 2017 when they beat Wales and Italy and earned a first ever win over Ireland in this year's tournament, but have suffered consistently heavy defeats by England and France.
"Undoubtedly when they come up against the big guns it is always going to be a challenge to beat them," Hastings said.
"But remember the men's team have still to beat New Zealand; that is still a big task for them.
"Ultimately it is going to take time but the ladies will improve their standards. Their skill level is absolutely superb. They will perform on the pitch and have to turn the hand of Scottish Rugby [to get more contracts]."