Ulster's Marcell Coetzee 'enjoying every moment' of return from long-term injury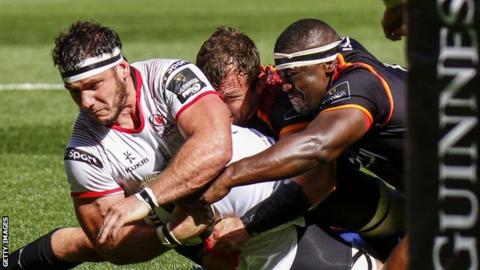 Ulster back row Marcell Coetzee says he is "cherishing every moment" of his involvement in his team's Pro14 games after returning from a knee injury.
The South African played only five games in the last two seasons but has started each of the province's three wins which sees them top Conference B.
"I've been enjoying every second - that's one thing the injury has taught me," said the 27-year-old Springbok.
"Just being back in the squad and making the most of every opportunity."
After putting in a man-of-the-match performance to help his side beat Southern Kings 28-7 in Port Elizabeth on Sunday, Coetzee says being sidelined for so long has made him "appreciate the little things in life again".
"It's great being in the mix again and then getting the chance to play in my home country where the weather conditions are perfect for carrying the ball and throwing the ball around.
"I enjoy the carrying, the breakdowns and the defence - just rugby in general. You want to do the best for your team-mates and help them all you can."
First full game
The flanker scored Ulster's first try in the victory over the Kings and completed 80 minutes in a game for the first time this campaign as Dan McFarland's side maintained their 100% winning start to the season.
"I've been building up from 20 or 30 minutes in pre-season friendlies and we had always targeted this game as a full 80. Luckily I got through it with no problems.
"The last 10 minutes was tough but it's just nice getting through it - I'm happy for the team and just trying to contribute where I can.
"I have to commend the forwards for my try. It was a forwards' try. I just finished it off."
Ulster will continue their two-game tour with a match in Bloemfontein on Friday against a Cheetahs side still searching for their first win in Conference A.
"Coming on tour all the pressure is on that first game. You want to pick up some momentum going into next week.
"The one area we will have to take into account is the altitude factor. That's an important element to get over first of all.
"The Cheetahs will be looking to bounce back and prove a point, particularly on their home turf. It's a short turnaround for us but we must be as professional about it as we can."