Australia v Argentina: Lukhan Tui faces no further action over fan scuffle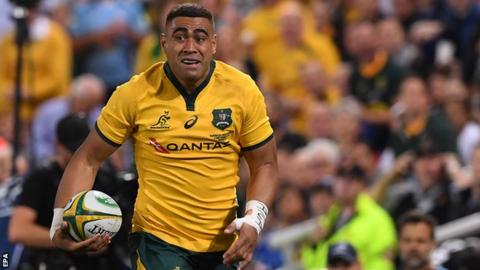 Australia flanker Lukhan Tui will face no further action over his scuffle with a fan after their loss to Argentina.
Tui was pulled away from the man by team-mates after the brief altercation by the players' tunnel following Saturday's 23-19 defeat in Queensland.
Rugby Australia says the fan was using "offensive language" and Tui reacted when a young family member was pushed.
Chief executive Raelene Castle called the incident "isolated" and said Tui, 21, did not want to pursue it further.
Argentina's win was their first in Australia since 1983 and means the Wallabies will slip to seventh in the world rankings - their lowest ever position.
Coach Michael Cheika said Tui, whose stepfather died on Wednesday, is "not going to be playing any more" and will take a break for the rest of the season.
After the match on Saturday, Cheika said the man had pushed the flanker's sister.
Rugby Australia says the fan was ejected from Queensland's Robina Stadium by police, and added that it will review security measures.
"Emotions were running high after the match on Saturday night and I understand why Wallabies fans are frustrated after a result like that," said Castle.
"Two fans came into the area where players families were gathered and were arguing and using offensive language in criticising the players over their performance.
"One of Lukhan's young family members was physically caught up in this exchange and this prompted the reaction from Lukhan.
"He has indicated that he does not wish to pursue the matter any further and therefore no further action will be taken by Rugby Australia."
Castle said the organisation encourages fans to get "up close and personal with their heroes and our Wallabies stars".
"The interaction between players and fans is an extremely important part of sport and we never want to see an incident like this again," she added.