Duncan Taylor: Saracens' Scotland centre out for season after double cruciate rupture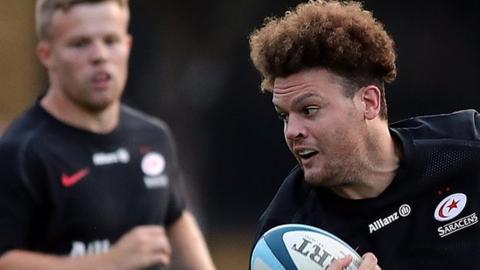 Saracens centre Duncan Taylor will miss the rest of the season but could return in time for Scotland's 2019 World Cup campaign, boss Mark McCall says.
Taylor ruptured both his anterior and posterior cruciate ligaments in an A-team game against Exeter's reserve side on 3 September.
It followed a difficult 2017-18 campaign for the 29-year-old, who was limited to just 10 league appearances.
"Duncan is out for the season and won't be back until June," McCall said.
"It's a huge blow. He's obviously had a poor year injury-wise. With the head injury (in January) he was never sure when he was coming back or when he was going to feel good.
"It's cruel for one of the most popular players in the squad. It's just one of those things."
Taylor has won 21 caps for Scotland, the last against Fiji in June 2017.
Gregor Townsend's side will play their first competitive game of the World Cup on 22 September next year against Ireland in Yokohama.
"I'm optimistic he'll be back for the World Cup," McCall added.
"All things going equal he'll be back in June which gives him time. I'm sure he'll be in contention."