Jack Richards: Former England cricketer helping Cornish Pirates rugby team to success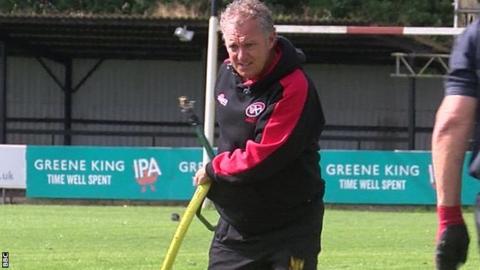 It is a few weeks before the start of the season and two men are tending to the pitch at mainland UK's most remote sports team in Penzance.
One is the Cornish Pirates groundsman, the other has played eight Test cricket matches for England and belongs to a select group of people to have returned home from Australia with the Ashes.
Jack Richards kept wicket for Surrey for 12 years from 1976 and was England's first choice for the 1986-87 Ashes tour and three Tests the following summer - but his heart belongs in his home county of Cornwall.
"I was born around the corner," he said, pointing to a row of houses a couple of hundred yards behind one of the sets of posts at the Mennaye Field - home of Championship rugby union side Cornish Pirates.
"I was a rugby man at that stage, my dad brought me down to Penzance and Newlyn as it was in those days.
"The touring sides used to come so I have vivid memories of seeing the All Blacks and the great Australians coming down to the Mennaye and training, and I'd be there to kick the ball back."
A short but significant England career
Richards' finest hour with a bat and ball came in the second Test of that mid-80's Ashes series - he hit 133 in the first innings as England drew a high-scoring game at the Waca in Perth.
Having won the first Test after forcing Australia to follow-on, that draw set the platform for a rare series win for England down under - a feat they have only completed five times since the end of World War Two and only once since.
Among Richards' team-mates were Sir Ian Botham, Mike Gatting, David Gower, Allan Lamb and John Emburey, and they came up against an Australian team that was captained by Allan Border and included Geoff Marsh, David Boon, Merv Hughes and a fresh-faced Steve Waugh.
He returned to Penzance some years ago having spent time in Belgium after his retirement from cricket - and 60-year-old Richards is keen to give something back to the community and the now-professional Championship club which gave him so much as a boy.
"Having been a professional myself I understand what the players require and what they expect and it needs support staff to do that," he said between watering the pitch and helping mow the grass.
"The Pirates have a lot of good volunteers who are here to support the players and ensure that we can make the facilities as good as possible for the players and spectators."
Unearthing future Cornish stars
But it turns out the cricket star, who still turns out for Falmouth's first team in Cornwall's top flight, is trying to convert local youngsters to the oval ball rather than the round one.
He helps run the Cornish Pirates' outreach programme across the county in preparation for the long-hoped-for move to a new stadium in the Duchy's capital of Truro.
"We're trying to get into the community and make it a more fun and healthier place to be," he said.
"The Pirates have a great brand, there's a lot of great sporting talent, and I think it's key for the club to get it into the community and project themselves and what they're about.
"The Pirates have been out coaching netball and more senior rugby, so the Pirates now are developing their outreach to become more sports-orientated and to get in touch with more people."
But being so far away in Penzance - the nearest top-flight team of any description are Exeter Chiefs, who are about 120 miles away - can be seen as a limiting factor.
So does it make it harder to produce top youngsters when they are so far away from the rest of the country?
"I made it, so it can be done, and I made it in 1975 when the trip to Exeter took a lot longer," he said.
"You have to have luck, but at the end of the day what's vital - above a certain amount of talent - is determination and the will to want to do it."
And with two former Pirates youngsters - Jack Nowell and Luke Cowan-Dickie - regulars in the England squad, Richards says the role models are there for the next generation of Cornish stars.
"If you go to Twickenham you'll see Jack's face all over, he's got quite a high profile and that's fantastic," he explained.
"Cody Cooke moving to St Mirren was also a great feather in the cap for Truro City, but there should be more.
"I firmly believe Cornwall's got the talent to have more elite sportsmen going through, we're missing a trick somewhere.
"With me being down here I hope I can help fulfil their dreams and get them focused and more people make the grade up country."