Cardiff Arms Park: WRU chief executive will seek new deal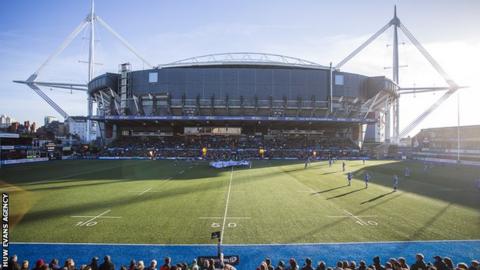 Welsh Rugby Union chief executive Martyn Phillips says the governing body still hopes to buy Cardiff Arms Park.
A WRU bid of between £15-20m to buy Cardiff Arms Park was rejected by the ground's current owners in August 2018.
The management committee of Cardiff Athletic Club (CAC) decided it would not put that offer to its members.
When asked if the WRU would make another offer, Phillips said: "Yes, I would not mind if a deal happened in 10 years time."
CAC is made up of five different committees representing rugby, tennis, bowls, cricket and hockey and aims to promote amateur sport in the city.
Phillips has publicly confirmed the WRU's interest in buying the Arms Park for the first time, but conceded it might prove a long-term ambition.
"I am a fan of always keeping the dialogue and channels open," said Phillips.
"When you are doing commercial things sometimes you have to be very patient and I am.
"We are doing a lot around property generally. We are looking at the Arms Park, but that is just one of a number of options we have got.
"We are looking at major developments whether it is in Rodney Parade or around the Principality Stadium.
"You have to look at a lot of options before you manage to land one. Things will come and go, but it will be very difficult to land."
In February 2018 CAC tenant Cardiff Blues said they were considering moving after talks stalled over the lease of the ground in the city centre.
Blues bosses confirmed earlier this year they were considering a move elsewhere after its offer of £8m for a 150-year lease, which included plans to redevelop the ground, was rejected. The Blues' current deal expires in 2022.
Phillips says any potential WRU deal over the Arms Park would benefit the Blues.
"We have not got to the stage with the level of detail to how it would work with Cardiff Blues," said Phillips.
"The key thing now is we are inter-dependent with all the professional sides that everything has to work for everyone.
"So if we did end up doing something we would end up doing it with the Blues rather than against them. "