Eddies Jones: England head coach meets referees' chief to discuss officiating
By Chris Jones
BBC Radio 5 live rugby union reporter
Last updated on .From the section Rugby Union174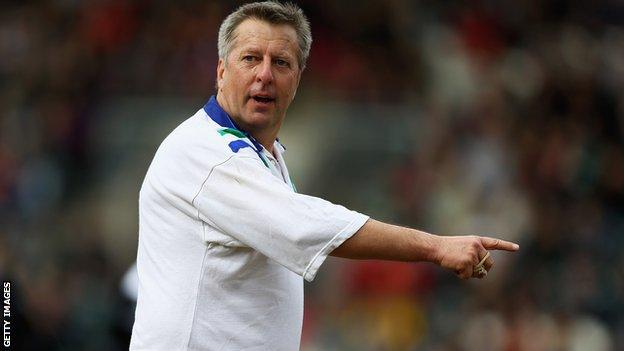 Premiership officials are prepared to tweak the way they referee in order to help England in international games.
England boss Eddie Jones has asked referees' chief Tony Spreadbury for "a contest" at the breakdown this season.
Premiership referees favoured the attacking side last season, encouraging teams to keep the ball.
However, England struggled in the Six Nations and on their summer tour of South Africa, where officials allowed defenders more leeway.
"He was saying to me: 'If we have a contest, that will be great for us'," Spreadbury said.
"I said that's fine, but we will referee the laws of the game, and he accepts that. We also want a contest and we want to allow a contest."
As well as speaking to the England boss, Spreadbury regularly canvasses the views of the Premiership coaches, and expects to see a slight tweak in how the game is refereed in the upcoming campaign.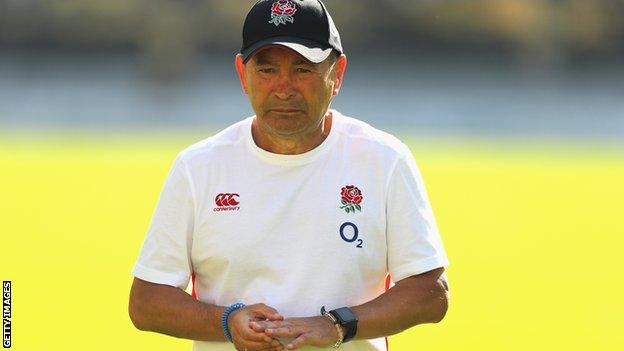 "All the directors of rugby who have spoken to me in July and August say it is about getting people away from the ball but when there's a good jackal, let's reward them," Spreadbury added.
The new Premiership season starts on Friday night, as newly-promoted Bristol Bears host Bath at Ashton Gate.
"We'll see how players react this weekend, and if there's anything different in their approach to how they want to play the breakdown," Spreadbury said.
'Protect the game's values'
RFU officials have also vowed to crack down this season on player behaviour, including appealing to the referee, goading the opposition, and brandishing imaginary cards.
They will also look to discipline unwanted involvement from "non-participants", such as team medics and water carriers.
"Pre-season we have given the clubs the message," Spreadbury said.
"We met yesterday with all the members of the PGMOT [Professional Game Match Official Team].
"We presented to them about the game values and what we want."