Danny Cipriani: England should judge fly-half on field - Gloucester's Johan Ackermann
Last updated on .From the section Rugby Union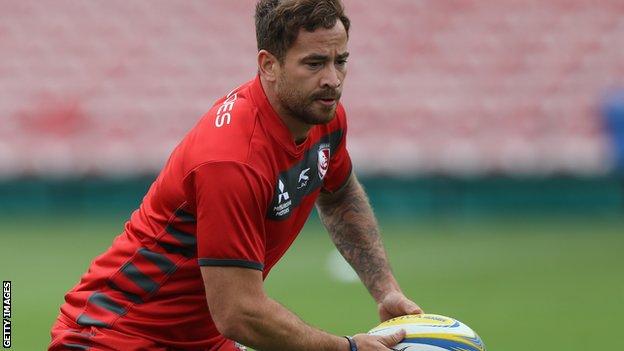 England should judge Danny Cipriani on his performances on the field and "move on" from the incident in Jersey, says Gloucester head coach Johan Ackermann.
After a five-hour hearing on Wednesday, the Rugby Football Union opted not to sanction the fly-half beyond the £2,000 fines imposed on him by both Jersey magistrates and his Premiership club.
He had pleaded guilty to common assault and resisting arrest on 16 August.
Cipriani, 30, will now face Dragons at home in Thursday's pre-season friendly.
The former Sale player, who has won 16 caps for England, joined Gloucester from top-flight rivals Wasps in May in an attempt to aid his England career.
"Danny is not stupid. He has learned a lesson. The ultimate judgement must be what he does on a rugby field," Ackermann told BBC Radio 5 live, when asked if Cipriani should remain in the England frame.
"If a player has paid his price for whatever mistake he made, it is time to judge him on the field.
"If he is still the best player in his position, I suppose you cut your nose to spite your own face if you don't want to select the player.
"He has got time now on the field to show that that's where he can do the talking and then it's up to the individuals to [decide] how long they want to keep the mistake against him.
"I don't want to sound like I condone that kind of behaviour - it is not what we stand for - but the reality is, he made a mistake. There is not one person in life who can say they have never made a mistake."
Ackermann continued: "He has been brilliant [in training]. I compliment how he handled the situation. He apologised to the team and still trained with the same enthusiasm and energy that we wanted to see.
"I'm just glad that it is over now. It is time to move on. It was done and dealt with at Jersey already and then the club also had it's own hearing and it was dealt with.
"It was a bit prolonged and went on and on and on. It was a bit unfair towards him, having three times to have to explain himself."
Both Gloucester and the Rugby Players' Association fiercely criticised the RFU's intervention in what was referred to by the club and the magistrates as a "minor incident".
The Cherry and Whites begin their Premiership season against Northampton at Kingsholm on 1 September (14:00 BST).