Danny Cipriani: England should stick with fly-half, says Sale boss Steve Diamond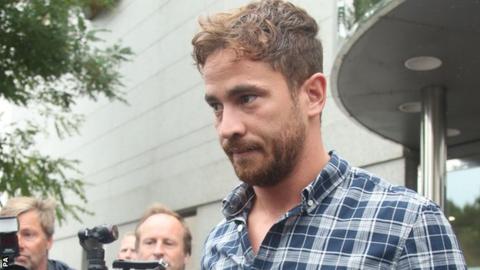 Danny Cipriani must still be part of England's plans this autumn, says Steve Diamond, who managed him at Sale.
Gloucester fly-half Cipriani was fined after pleading guilty to common assault and resisting arrest following an incident in a Jersey nightclub.
Diamond, who was the 30-year-old's director of rugby for four years at Sale, says the episode should not spell an end to his England career.
"It would be too harsh," he told BBC Radio 5 live.
"England need all the help they can get at the moment and players like him are few and far between."
Diamond believes Cipriani will be "pulled into line" by Gloucester head coach Johan Ackermann and "told that he's not even worn the cherry and white of Gloucester yet".
"He just has to get his talking back on the field," he added.
Cipriani says the incident was "completely unacceptable", while World Cup winning coach Sir Clive Woodward says the fly-half's England career is over.
This episode is the latest in a line of misdemeanours by Cipriani but, while admitting the player "should know better", Diamond said he had sympathy for him.
"When you employ a rugby player, you know you are not employing the Pope," he said.
"They are young lads, it's still pre-season. They have gone away on a tour and are getting what they need out of it.
"An incident happens and I think if anything he should know a bit better than most as people are waiting for him to make mistakes.
"The magistrates have dealt with it quickly, he's paid his fine, apologised profusely and we move on."
'He has shot himself in the foot'
"I have been in a cell for more than 24 hours thinking about what happened," Cipriani told the Times, following his release.
"I have massive admiration for the police and the job they do. I hugely regret what happened. I just want to talk to the female police officer and apologise."
Cipriani was recalled by England for the Test series against South Africa in June, after three years out of the squad.
"I have made mistakes in the past and was adamant it would never happen again," he added.
"I have tried to behave professionally, to train to the best of my ability. I know how precious these years are in my rugby career.
"What happened on Wednesday has caused much reflection. I am very grateful to the magistrate, who said that the incident was minor. But I am in no doubt that it was completely unacceptable."
But former England coach Woodward says "enough is enough".
"When will Danny stop shooting himself in the foot? When will he start acting like an adult, a professional athlete and a role model?" asked Woodward, writing in the Mail.
"Eddie [Jones] made Cipriani wait for his chance - way too long in my opinion - but that was partly because he needed to know if he could trust the 'new', reformed Danny. Well, now he knows that, deep down, he probably can't. That will now always be in his mind when he selects his England squads."
'Cipriani still the right call for England'
The Rugby Football Union will await the outcome of Gloucester's internal disciplinary process before deciding on their next course of action.
As the game's governing body, the union has the jurisdiction to charge Cipriani with bringing the game into disrepute.
However, it is understood there are no plans to preclude Cipriani from selection, with the decision in the hands of head coach Jones.
Cipriani started England's last Test match at fly-half, helping the side to a 25-10 victory over South Africa in Cape Town.
World Cup winners Matt Dawson and Paul Grayson both believe Cipriani will and should be selected in November.
"He is yet to put a foot out of place for England and actually provided a bit of inspiration for their latest victory," Grayson said.
"I think Cipriani will play brilliantly for Gloucester and be in contention. I think Eddie will pick him."
Dawson added: "At 30, with all the scenarios he has found himself in, he should know by now that he cannot put himself in an environment that involves drinking in public.
"I know that sounds like a curfew but surely he must know now he cannot trust himself? Surely it has to be on his mind now?
"I think Eddie will do his homework here and work closely with Gloucester to find out exactly what went on.
"He will know what went on, make his own decision and I think he will make the right one in keeping Cipriani in the squad."