Noel McNamara: Ireland Under-20's coach to go on placement in New Zealand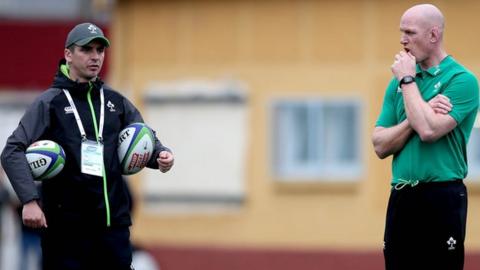 Ireland Under-20's head coach Noel McNamara has joined New Zealand club North Harbour on a coaching placement.
McNamara will work with the Mitre10 Cup side for the next three months.
Ronan O'Gara, Paul O'Connell and Girvan Dempsey are among the former Irish internationals to take coaching jobs abroad recently but McNamara's move is part of an IRFU programme.
The purpose of the scheme is to take Irish coaches "out of their comfort zone" so they can gain experience.
At the end of the three-month placement, McNamara will return to Ireland to continue in his role with the Ireland Under-20's and as the coach of Leinster's development squad.
"The aim of the CPD [continuing professional development] programme is to expose our best up and coming Irish coaches to other rugby models and to take them out of their comfort zone of coaching within the Irish system," said IRFU High Performance Director, David Nucifora.
"In Noel's case the experience he will gain from coaching in such a competitive tournament is invaluable especially considering the calibre of those in the North Harbour coaching group led by Tom Coventry, who has Super Rugby coaching experience with the Chiefs and is due to link up with the Blues in the new year."
McNamara's placement is the latest example of the IRFU's efforts to develop home-grown coaches.
Ulster defence coach Jared Payne travelled with the Ireland team during their tour of Australia in June while O'Gara, Dempsey and Munster assistant coach Felix Jones have also spent time working under Ireland head coach Joe Schmidt.
O'Connell, who was recently appointed forwards coach by French Top14 club Stade Francais, had previously served under McNamara as part of the Ireland Under-20's coaching staff.