Rugby Union should learn from US sports over player welfare, says Ben Foden
By Chris Jones
BBC Sport rugby union reporter
Last updated on .From the section Rugby Union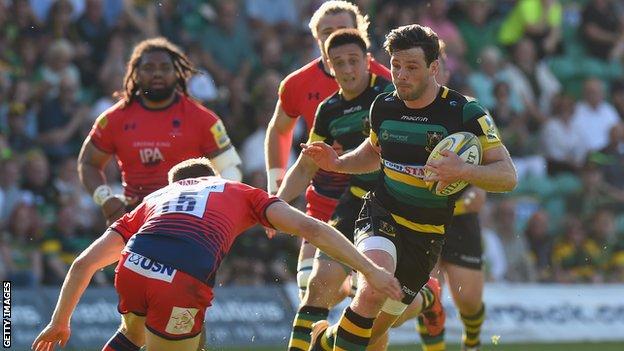 Rugby union should learn from American sports when it comes to player welfare and growing the game, says former England full-back Ben Foden.
The 33-year-old becomes the highest-profile Englishman to play in the States, and believes rugby in America "is there is be cracked."
"American attitude towards sport is perfect for rugby," he said.
Foden added to BBC Sport: "One of my problems with the Premiership is that with Premiership rugby, European Rugby, cup rugby and being an international player, you just play too many games a year.
"In American sport you play for four or five months and that's it. The NFL is four months, then it goes to the basketball season and then into the baseball season.
"And they are doing the same thing with the rugby. And if it gets too big they are going to conference it. It is how I think a sport should be run, otherwise you will have guys who only play for five or six seasons instead of having a 10- or 11-year career."
Former Lions captain Sam Warburton is the latest big name to retire prematurely, with the flanker quitting the game at the age of 29 after an injury-plagued career.
"My argument is that it is not realistic to ask people to play 30 games a year, and expect them to perform at the highest level, and be 100% fit week in, week out," Foden said.
'You need heroes and villains'
Foden also believes American clubs are prepared to market their sports and brands better than their counterparts in the UK.
"In England, no-one really wants any rugby player to be bigger than the game. Even when you play England U18s you have media training to be humble. But in America they want superstars. They are all about building a brand," Foden continued.
"We have the characters [in England], but say if you are in trouble and you have done something in a game - a Haskell or a Vunipola or an Ashton - instead of releasing them to the media and letting them be honest or talk about things they are normally hidden away and protected.
"That works to a certain degree, but if you want the pull, and the headlines, and the attraction - that's what the Americans want. You watch anything that is successful and you need a hero and a villain and they [the American audience] want the villains and the heroes, they want David versus Goliath. They love all that, it is all part of the show to them.
"That's what they view sport as: it's about the show and the bigger picture."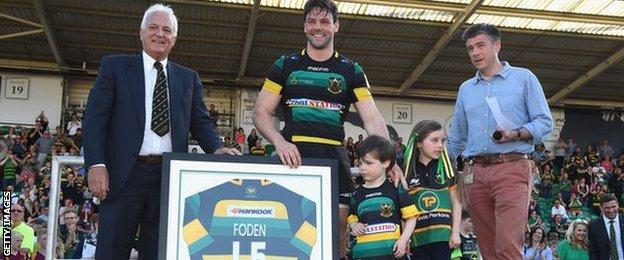 'The opportunity is massive'
Foden won 34 England caps between 2009 and 2013, and played 250 times for Northampton over the course of 10 years at Franklin's Gardens. He says he did not entertain moving to another English club after leaving Saints at the end of last season.
"I didn't really shop around. The options were more in France but I have never fancied going over to France to play. So it was about finding something that fitted for me," he explained.
Foden's switch to New York was part brokered by former England and Lions prop Alex Corbisiero, who is a leading analyst for NBC Sports in the USA and an expert on American rugby.
"He was the one who suggested it first. We share a management company, and he is always in New York to do his NBC stuff and met [Rugby United owner] James Kennedy, who said it would be nice to get someone over here to lead the charge," he said.
"Corbs sold it to me, and he is of the same mindset as I am - that the opportunity is massive. I think [rugby] could be taken to a whole new level, and the Americans are hungry to do that."
MLB, MLS, now MLR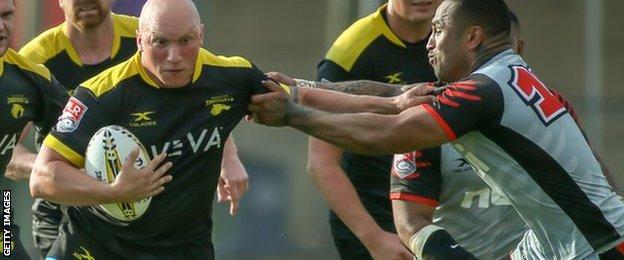 This year saw the inaugural season of Major League Rugby (MLR).
Set up as the top domestic league in the United States, its aim is to grow the sport and make it attractive to the country's huge television market.
Its aims seem to already be paying dividends - the United States registered their first-ever win over a tier-one nation when they beat Scotland 30-29 in Houston last month.
MLR began this year with seven clubs stretching across the USA - each side played eight games. with the top four teams from the regular season making a play-off system similar to the English Premiership's.
Runners-up Seattle Seawolves beat the table-topping Glendale Raptors from Colorado 23-19 in the final in San Diego.
Three more sides - Rugby United New York, Los Angeles Coast Rugby and the Ontario Arrows from Canada - are due to enter the league when it starts its second season in late January 2019.