Rugby World Cup Sevens 2018: New Zealand beat England in final
Last updated on .From the section Rugby Union166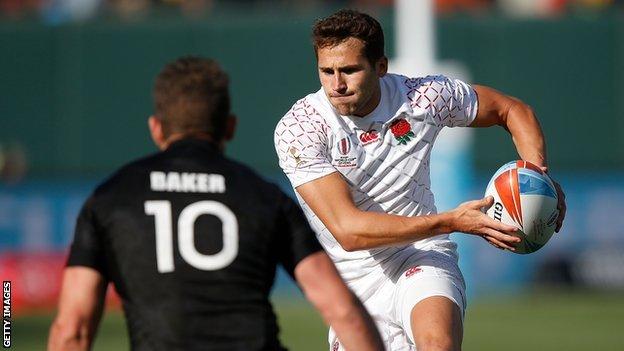 New Zealand became the first men's side to win consecutive Rugby World Cup Sevens titles as they beat England 33-12 in the final on Sunday.
The All Blacks took a 14-0 lead in San Francisco as Sione Molia scored two tries, both converted by Kurt Baker.
A Michael Ellery converted try halved the deficit at half-time, before a Joseva Ravouvou score took it to 19-7.
Ruaridh McConnochie hit back for England before Akuila Rokolisoa and Trael Joass secured victory.
Scotland claimed seventh place overall after Jamie Farndale scored two late tries in a 29-24 win over against France, while Ireland secured a 24-14 win over Australia in the Challenge Cup final to finish ninth.
Wales had to settle for their lowest place finish since 2001, coming 11th following a 35-12 win over Canada.
Did the knockout format work?
This year's tournament saw the traditional round-robin stage scrapped in favour of a single-elimination knockout from the opening round of matches.
Australia were a notable first-round casualty in the men's draw while England's women fell at the first hurdle in a surprise defeat by Ireland.
"We're getting a lot of positive feedback from fans about the drama of knockout," said World Rugby chief executive Brett Gosper, as 102,000 fans attended the event over the three days of competition.
"It makes each game exciting. It can be brutal for teams, but sport's brutal."
England head coach Simon Amor said he was "pleased" with how his players adapted to the new structure, but captain Tom Mitchell claims he is "not totally sold on the new format".
"There are pros and cons to it but it's up to World Rugby to keep mixing things up and keep improving the game," said Mitchell.
Despite retaining the title in the men's and women's tournament, New Zealand coach Clark Laidlaw also remains unconvinced.
"As a spectacle I'm sure everyone enjoyed it, but when you've got coaches and players' livelihoods at stake, and the format isn't quite what we're paid to do, it's an interesting question," said Laidlaw.