Rob Horne: Northampton Saints v Leicester Tigers moved to Twickenham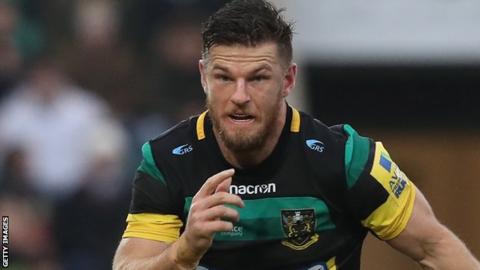 Northampton will play their Premiership game against Leicester Tigers on 6 October at Twickenham to raise money for former Saints centre Rob Horne.
The Australia international retired in April after suffering nerve damage which left his right arm paralysed.
Horne, 28, was captaining Saints for the first time when he was injured 13 seconds into a game at Welford Road.
"I am touched by the additional gesture the club are making in staging this game," Horne said.
The reason for his retirement was disclosed as "life-changing nerve damage" at the time, but Horne has now revealed the full extent of his injury.
He added: "I suffered a brachial plexus avulsion, meaning I detached the five nerves from my spinal cord that control my shoulder, arm and hand.
"As a result, I've got full paralysis of my right arm and currently chronic pain."
Horne 'humbled by outpouring of support'
The Rugby Football Union approached Saints earlier in the summer about hosting a home fixture at Twickenham to test the new East Stand development before the 2018 autumn internationals.
And the two sides will now meet at the home of English rugby for the first time since the 2013 Premiership final.
Horne played 21 times for Saints last season, scoring eight tries and picking up the club's player of the season award.
He has since moved back to Australia with his family but will return to England for the match.
It will act as a fundraiser for his ongoing rehabilitation costs and to ensure financial security for him and his family, after requests from both Saints and Tigers fans.
"Everyone at the club has gone above and beyond to support me and my family through an incredibly difficult time," added Horne.
"I've been humbled by the outpouring of support from both Northampton Saints supporters and many of the Tigers fans that were at that game too.
"I hope we can raise some awareness for brachial plexus injuries, as well as being treated to another chapter in this storied rivalry."
Saints chief executive Mark Darbon told BBC Look East: "We see this very much as a unique and one-off opportunity.
"We had an interesting approach from the RFU, which I'm not going to lie benefits the club financially, but it gives us this stage with which we can maximise the funds for Rob, something that we wanted to do anyway.
"The two things came together quite nicely and we feel really strongly that it's a positive decision and one that our supporter base will embrace."