Liam Williams: Lions star hopes for World Cup success with Wales
By Gareth Griffiths
BBC Sport Wales
Last updated on .From the section Welsh Rugby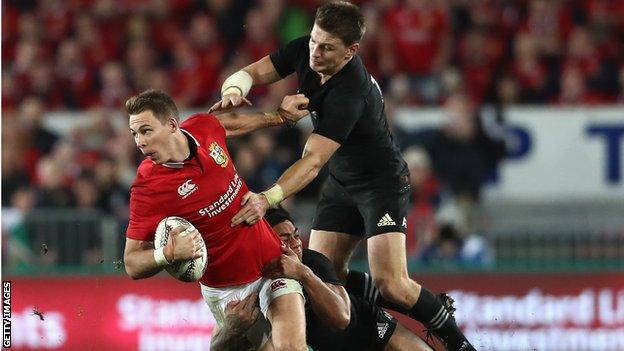 It's been a relatively low key year in Liam Williams' meteoric rugby career, but expect to see his name back in the spotlight soon.
Last summer the 27-year-old former scaffolder was headline news having started all three Tests for the British and Irish Lions in the drawn series against New Zealand.
But what followed was an injury-plagued club season with his new side Saracens.
A groin problem ruled him out for almost three months in the middle of the season, while a shoulder injury meant he had to watch Saracens win the Premiership title from the stands.
"It was hard because I have not missed that many games for Wales," Williams told BBC Sport Wales.
"I missed the first couple of Six Nations games before returning. Hopefully I can stay fit this season, if selected."
Williams was rested along with the majority of Wales' Lions for the summer tour where Warren Gatland's side won three games from three against South Africa and Argentina.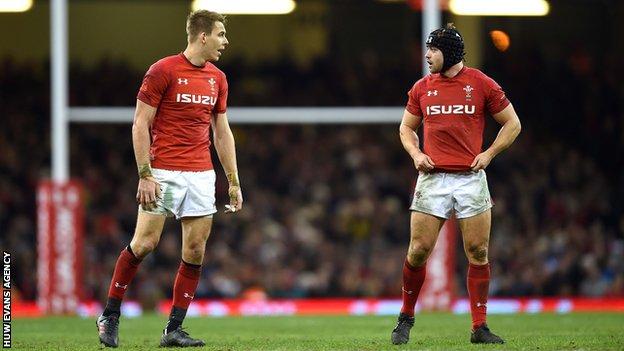 The tour saw the emergence of back three players like Hallam Amos and Josh Adams with the duo, alongside Steff Evans, set to rival established players like Williams, George North and Leigh Halfpenny ahead of next year's World Cup in Japan.
Wales rose to third in the world and Gatland said he hoped established players left at home would be worrying about their places.
But Williams, who says he is happy playing wing or full-back, welcomes the "outstanding" rivalry.
"It's good to see the younger boys coming through... Steff, Hallam and Josh have all gone well recently," he said.
"It suits Wales to have a choice of back three players. We have not had a huge amount of choice over the last couple of years."
Williams added the competition "can only be looked at as a plus" with the World Cup on the horizon, something he thinks Wales can even win.
"I think we have a serious chance this time around," said Williams.
"We can go far, even as far as winning it. Can you imagine that?
"We have strength in depth all over the park at the moment. Who do you pick in the back row? It's incredible.
"It's exciting for Wales as a country as a whole, fingers crossed I get picked."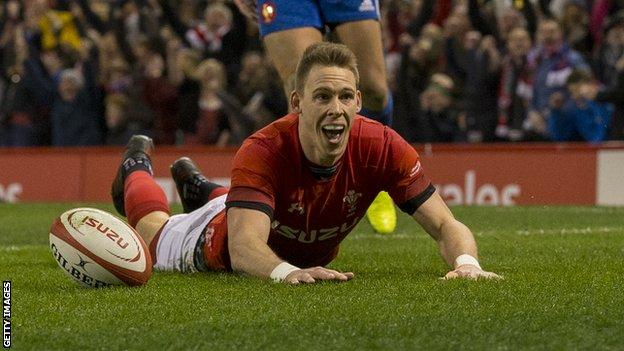 It would represent a second World Cup for Williams whose journey into professional rugby is not the typical story of a modern Welsh rugby player.
Williams, nicknamed Sanjay after a character from soap Eastenders, graduated from semi-professional side Llanelli to international rugby in less than two years.
He has gone on to become a Wales regular and Lions Test starter, joined English champions Saracens from Scarlets and moved to live in London with his girlfriend Sophie.
From the Swansea scaffolding scene, Williams cuts a comfortable figure at the Saracens training ground in pre-season at St Albans as he prepares for what could be a defining season in his career.
"It has all happened so quickly, I still pinch myself," said Williams.
"Playing rugby is my job, there are not many better jobs where you can wake up and just go and train with your mates.
"It is class, I love it and know one day it's going to come to an end. I just don't want that to be any time soon."
This path has helped Williams become something of a cult hero in Wales, something that puzzles the man himself.
"I am just being me. I have always played with my heart on my sleeve," said Williams.
"I won't change. If that means getting hurt and taking one for the team, that's the way it is."
Williams also thinks his public appeal might because of what he describes as his distinctive body shape.
"It is because of these 'bandy legs' or 'bow legs' as they have been described," said Williams.
"I get more people asking me whether I am Liam Williams and telling me they recognise me by my legs!
"I don't mind it at all. They are my legs and they are doing a job."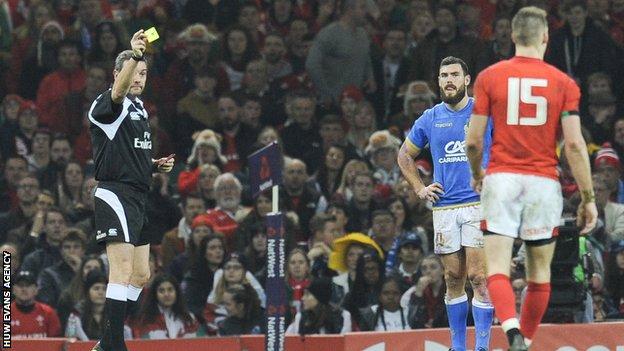 Fans also recognise the passion Williams plays rugby which has sometimes spilled over during his career.
Williams is a more controlled character now, although over exuberance still sometimes rears its head, typified by the yellow card he received against Italy in the 2018 Six Nations for a high tackle on Matteo Minozzi.
"I went through a stage early on where I was not angry but keen to try and fly into everything, trying to hurt everything," said Williams.
"Maybe I should have used my head a bit more to think about things but every game is a learning curve.
"You look to keep your temperament and I have cooled down a bit. You have to be on the edge but not cross the line.
"It is a fine line, sometimes you cross that occasionally. That is the stuff you learn from."
Williams also rarely gives interviews which he puts down to a stammer he has experienced since childhood.
"At the start I was OK but things have just got a bit more pressurised," said Williams.
"I didn't understand it because coming from being a scaffolder, I thought I would just be jumping in front of a camera and not care what I said.
"Suddenly I had to think of what I was saying, how it could be interpreted, that's when it affects me.
"I don't tend to do many TV interviews anymore. When there is a camera is in front of me, I start worrying.
"My older brother had a stammer and being the younger brother copied him. The rest is history, I can't speak!
"I go to speech therapy and they have been on my case to go back, so I might start that up again."