Stephen Jones: Scarlets say Wales have not made approach for backs coach
Last updated on .From the section Welsh Rugby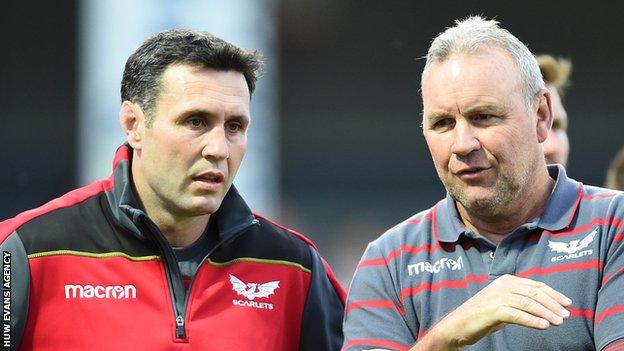 Scarlets say there have been no talks about backs coach Stephen Jones joining Wayne Pivac's future Wales set-up.
But general manager Jon Daniels says that has not yet been on the agenda.
"He is contracted here, we have had no discussions with Stephen, Wayne or the Welsh Rugby Union about Wayne's future Wales coaching team," said Daniels.
"That is still to come and we will just concentrate on Wayne transitioning to the Wales job in a year's time."
In November 2017, Jones signed a contract extension at the region until the end of the 2019-20 season.
Pivac might also look to bring in Scarlets forwards coach Ioan Cunningham or defence coach Byron Hayward into his Wales set-up.
"Wayne is sensible and reasonable and understands the balance between getting his coaching team right but also having strong regions," said Daniels.
"I am sure Wayne has no intention of decimating our group but if the conversation were to take place about one of the assistant coaches, we would have to entertain that.
"Stephen has made an impression but it would be unfair to just single him out.
"Under Wayne's guidance, Stephen, Ioan and Byron have all played big parts in delivering the success we have had here."
Daniels believes having time to appoint Pivac's Scarlets successor is ideal and Jones would be a leading candidate if he was not tempted away by Wales.
"Normally these things either occur because of a crisis or cause a crisis," said Daniels.
"In this case we are fortunate it is neither. We have a full season with Wayne at the helm to see if we can get some more silverware.
"In the meantime the board have the time to conduct a thorough process and identify the person to take over in a year's time."
Daniels says a successful career, rather than being Welsh, will be the most important criteria in selecting the new coach - just as it was in the appointment of Pivac as Wales head coach.
"We would ideally want someone with a track record of success," Daniels said. "There is a style of play in the Scarlets DNA and we would want someone comfortable in continuing to operate that.
"We don't know whether we will find the next coach on our doorstep or internationally. If the person could be Welsh, that would be a bonus.
"The reality in performance sport is we need to find the right person first. If that person was Welsh that's great, if not then we have to put performance needs first."
Daniels also admitted the incoming boss will have big boots to fill.
"Wayne's legacy will be one of reinvigorating and putting back some pride back into Scarlets rugby, which for various reasons had been missing for a while," said Daniels.
"He should have a lot of pride in that and he still has another season left."